Temper Movie Review and Rating ,Public Talk ,Collections – NTR , Kajal
Temper Movie Review and Rating Public Talk Box-Office Collections:

3.5/5
Detailed review by Top Reviewer Temper review
Temper movie starring Jr. NTR and Kajal Aggarwal directed by Puri Jagannadh on 13th February 2015. The movie coming with crazy combination of Jr. NTR and director Puri had a big expectations. Movie has recently got censor report U/A Certificate with few cuts.
Also see: Temper Censor Report Completed with Few Cuts
Temper Movie Cast and Crew:
Director: Puri Jagannadh
Producer: Bandla Ganesh
Writer: Vakkantham Vamsi
Cast: Jr. N. T. Rama Rao, Kajal Aggarwal, Prakash Raj and others.
Music: Songs by Anoop Rubens
Background Score by Mani Sharma
Cinematography: Shyam K. Naidu
Editor: S. R. Sekhar
Production Company: Parameswara Art Productions
Release Date: February 13th 2015
Language: Telugu
The movie produced by Bandla Ganesh on Prameswara Art Productions banner. The movie was scheduled with fast shooting and completed before January and has delayed due to other films releases and finally the movie is going to hit theatres on Valentine weekend.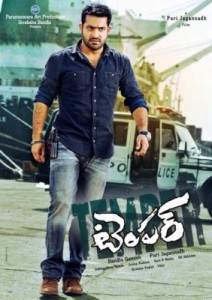 Temper Movie Preview:
The movie didn't get attention while project is going but after Teaser and Trailer were unleashed the market has suddenly increased for this project. Dialogues were performed in an astonishing way by Jr. NTR in this movie. Especially when Teaser got unveiled into market on 1st Jan 2015 with dialogue of Daya Daya gadi dandayathra became very famous on social network.
All the cast and crew are waiting to taste the success for many years. The first man to show about Jr. NTR who praised as star hero in Tollywood. But he didn't gave single success after 2010 and his last block buster was Brindavanam movie.
Even his earlier movies Badshaah got a crazy attention but couldn't cash it by presentation of movie. Then after that two back to back disasters with Ramayya Vastavayya and Rabhasa made NTR fans so depressed. Many critics are portrayed him that NTR will give only chance to hit director but unable get hit with those directors. After this again he changed his mind and started in a new way with this project and next with Sukumar.
Temper Movie Review and Rating 
Also See: Temper Movie Songs
Director Puri Jagannadh is one of the star directors in Telugu Industry and he did few movies in Bollywood too. He mainly considered as fast in and out completion and gave many memorable hits to many star heroes in Tollywood.
But his recent performance was below par and got many failures with last two movies are Iddarammayilatho and Heart Attack. Both got an average talk. Tarak was presented in a new look by Puri and will see how much it works. Especially dialogues seems very good trailer and many fans are eagerly waiting for more powerful dialogues by NTR in Temper.
Kajal Aggarwal is lead heroine in this movie and she hasn't scored a hit since two years in Telugu movies. Last year with Ram Charan project got an average talk so this success will enhance her career. Madhurima also playing an important role in this movie while Sonia Agarwal is making a guest entry in this movie.
The music given by Anoop couldn't reach to listeners but Back Ground score was excellently composed by Mani Sharma. The movie was planning to releasing world wide on 13th February 2015.
Temper Movie Review:
Many viewers took to their Twitter pages to share their verdict on the movie after watching it on its opening day. We bring you audiences' Twitter comments on the movie. Read the live update of "Temper" movie review by viewers:
SS Rajamouli ss @ssrajamouli
Along with his trade mark characterisations and dialogues @purijagan garu also gives a strong script and a super climax. #Temper Tarak takes his acting abilities a notch higher and excels. police station scene and especially the court scene will be remembered for long.
Ram Gopal Varma @RGVzoomin
Jst out of Temper .Tarak is a fucking mixture of super confidence nd hyper enthusiasm..in songs he looks like he's possessed by electricity. In Temper Poori Jagan is in his careers best form be it dialogue,taking and best of all in conception of Hero's character. Vakkantham Vamsi, Anup Reubens and Shyam k naidu very very finely tempered the steel of "Temper"
Ravi kiran @kinnuPSPK
Interval bang superrrr #Temper Hero characterization, Performance, BGM, Dlgs, matram Ultimate Weak comedy .. So far OK to Avg.
RJV @RJV4U
#Daya gadi dandayatra modalaindi… Good 1st half… NTR ni kothaga chupinchadu Puri … Posani salute chese scene fantasticcc .. #Temper #Temper will be a HIT for sure… NTR one man show..Super performance…Puri work is fantastic .. Dialogues are highlight… 3.5/5
aHf @adhyayam
Interval episode ki dilg lu padday kaani emotion pedda workout avala. Abv Avg 1st half #Temper
MEGA MOVIES @sharankalyan424
1st half #temper: okay. Positives : NTR . 3-4 scenes are too too good Negatives: families strictly avoid cheyocchu&ntr shouting dlgs a bit. Just completed my show…… NTR NTR NTR NTR …..puri jagan & ntr kalisi fanz ki FULL MEALS FULL MEALS PETTARU. MARK MY WORDS 🙂 #temper
Sateesh Botta @bkrsatish
Below avg first half #Temper Ntr realisation scene adiripoindi #Temper Second half good sofar #Temper Recent Ntr, puri cinemalli better cinema.fans ki super feast normal audience Ku avg #Temper
Vikram Reddy @urslovelyvikram
1st half antha goppaga ledhu #Temper Title song, Court scene feast for fans…Overall good second half Overall decent movie..NTR acting kummesaadu especially in 2nd half 1st half > 2nd half ani cheppina inside info specialists vachi linelo nunchondi BGM scenes elevationki entha mukhyamo choopinchaadu Manisharma …Maa thaman saab kottadu Aagaduki sachipovali anipinchindhi