Riteish Deshmukh Says Jacqueline Fernandez Was 'Live Wire':
Bollywood actress Jacqueline Fernandez is going through a great phase, working with big stars and under big banners. Her first co-star Riteish Deshmukh, has a great opinion of her and has said that she was a "live wire" on the sets of their latest film Bangistan.At an event when Riteish was asked about his equation with Jacqueline, he said: "One thing that has not changed about her is her intention to work harder every time. She is extremely hardworking. Whenever she comes on the sets, she is like a live wire, there's a certain amount of energy she has that she brings on the sets or wherever she goes.""What has changed is the fact is that she's become a better performer, an even more confident dancer. You can see that in her performance in songs, there is a certain level of perfection that she's attained. Hats off to her and I wish her all the best. I'm really happy for her that she's doing so well," Riteish added.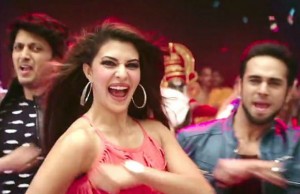 Jacqueline's debut film Aladin was with Riteish, after which they worked together in Jaane Kahan Se Aayi Hai.The concept is quite different and the story is quite interesting. The first half is filled with several light hearted moments, a few scenes are extremely funny and well directed.The characters are interesting, well-written and each of the actors are perfectly cast, especially Satish Shah who is a treat to watch.The film (atleast the first half) is fun. The colors are heart warmingly bright.The chemistry between the actors – Ritesh and Jacqueline –Ritesh and Vishal is nice.Overall, Jaane Kahan Se Aayi Hai has decent performances and a good first half. It tries hard to be funny, maybe too hard at times which somewhat ruins the fun. It does begin well but sadly ends up as nothing more than a average flick. We'd recommend you wait for the DVD or television premier. Ritesh Deshmukh fans can go watch. But she shot to fame with the song Dhanno from the 2010 film Housefull which also featured Riteish.The 29-year-old actress worked with him in Housefull 2, thereafter. Jacqueline has also done several films such as Murder 2, Race 2 and Kick.Bangistan also features Pulkit Samrat and is produced by Excel Entertainment. It is scheduled to release on August 7.