Pro Kabaddi League – Bulls reclaim third place
Bulls reclaim third place:
Bengaluru Bulls thumped Dabang Delhi 40-21 here on Friday, recording its first Pro Kabaddi League home win in the process. The adoring fans at the Sree Kanteerava Stadium revelled in Bulls' dominance, a welcome escape from the disappointment of witnessing two defeats earlier at this venue. The exciting Ajay Thakur (7 points) came into his own, while Dharmaraj Cheralathan (8) and Rajesh Mondal (6) provided able support. The defence, led by Somvir Shekar, stood firm in the face of Dabang raids. This crucial victory pushed Bulls (38 points) to third place. Dabang (26 points), meanwhile, will need an improved showing in the coming fixtures to stand a chance of entering the knockout rounds.Earlier, Patna Pirates kept its semifinal hopes alive with a tight 34-32 victory over Bengal Warriors. Pirates (30 points) stay within touching distance of the top-four, while Warriors have fallen out of the race.
The results: Patna Pirates 34 (Gurvinder Singh 11, Ravi Dalal 7) bt Bengal Warriors 32 (Sunil Jaipal 8, Jang Kung Lee 6); Bengaluru Bulls 40 (Dharmaraj Cheralathan 8, Ajay Thakur 7, Rajesh Mondal 6, Somvir Shekar 6) bt Dabang Delhi 21 (Kashiling Adake 6).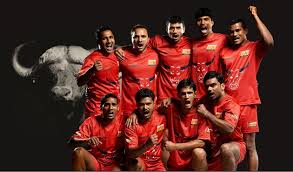 Panthers edge out Bengaluru Bulls:
Astute tactical play allowed Jaipur Pink Panthers to edge out Bengaluru Bulls 27-25 in the ProKabaddi League (PKL) here on Thursday, but the visitor did not win over any fans with its conservative approach.Jaipur sat on a 17-11 lead at the end of the first-half, and the decided to play for time after the restart. On raids, captain Jasvir Singh simply strolled to the baulk line and back, making no attempt to find a touch. Jasvir repeatedly used the ploy to run down the clock, and nullified Bengaluru's chances of making successful tackles. The score stayed largely unchanged, before Bengaluru Bulls forced the pace in the closing stages.With his side up 27-25, Jasvir returned to stall Bengaluru one last time. He used up the final seconds without showing any attacking intent, and returned safely. The vocal home crowd made their disapproval clear, but Jaipur was only too happy to record an uneventful victory. Jaipur (36 points) now moves to third-place, while Bengaluru drops one rung down to fourth.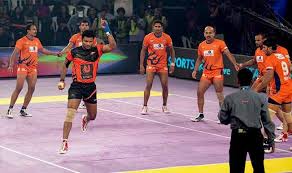 Third win:
Earlier, a resilient Bengal Warriors took out Puneri Paltan 31-28 to notch its third win.The fixture between the two bottom-placed sides provided a few exciting plays, but did little to improve their chances of gaining a knockout spot. Bengal (21 points) lies seventh while Puneri stay in eighth-place.Bengal, relying on strong raids by Mahendra Ganesh, took the early lead. Ganesh sparkled in the first-half, giving the defenders little chance of putting him out.In the last play before the interval, Jitesh Joshi helped Puneri pull level at 12-12. Joshi used his big frame and quickness to dodge the aggressive antis, and earned two points for his side. He did especially well to outwit the impressive Shyam Kumar, whose stout defending earned him five tackle points for the match.In the second-half, Ganesh made way for Korean import Jang Kun Lee. Lee, who has proved to be among the best foreign recruits in the league, used his quickness to pull Bengal ahead. Both franchises then traded blows, but Bengal soon put the match to bed by relegating Puneri to a luna. The all-out play gave the side a 26-19 advantage, and despite a late rally, Puneri sunk to its eighth loss in ten fixtures.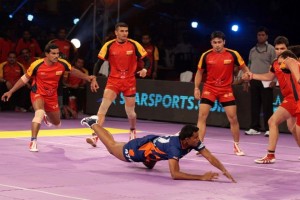 The results:
Bengal Warriors 31 (Sunil Jaipal 8, Shyam Kumar 5) bt Puneri Paltan 28 (Ravi Kumar 6).
Jaipur Pink Panthers 27 (Sonu Narwal 8) bt Bengaluru Bulls 25 (Ajay Thakur 8, Manjeet Chillar 6).