Philippine Bar Exam Results Passers Toppers October 2014
Philippine Bar Exam Results Passers Toppers October 2014 :
The results of the October 2014 Bar examinations released on Thursday, March 26 by the Supreme Court (SC). This year candidates passing rate was 18.82%, with 1,126 successful examinees out of a total of 5,982 takers. Here we are providing you the toppers,passers list of October 2014 Philippine Bar Exam.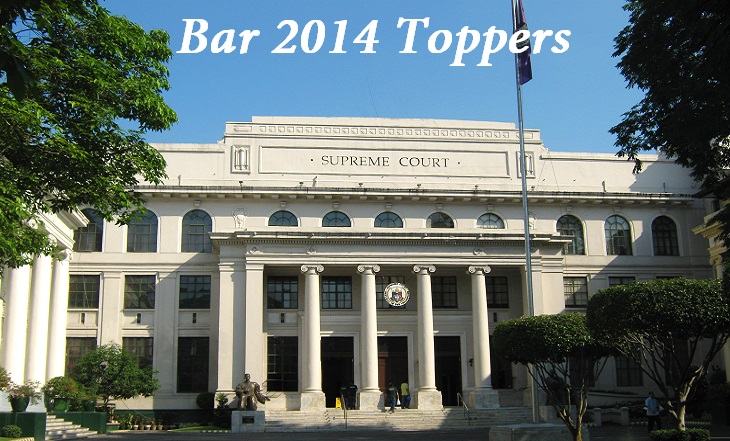 San Beda grad tops 2014 Bar exams:
The Philippine Bar Examination 2014 was administered on the four Sundays of October (5, 12, 19 and 26) at the University of Sto. Tomas (UST) in Manila. The 2014 Philippine Bar exam,that consists of eight law subjects covers 20% multiple choice questions and 80% essay-type questions same with the previous year examination structure.
A student of the San Beda College of Law scored a grade of 85.5 to top the 1,126 law graduates who passed the 2014 Bar examinations.
Of the 6,370 law students who applied for last year's Bar exams, only 6,344 made it to the final cut. Over 300 backed out during the four Sundays of the exams held at the University of Santo Tomas in Manila in October.
The top 10 Bar Passers are:
1st: Irene Mae Alcobilla – San Beda College – Manila – 85.5
2nd: Christian Drilon – Ateneo de Manila University – 85.45
3rd: Sandra Mae Magalang – UP – 84.6
4th: Mark Leo Bejemino – UP – 84.55
Gil Garcia – Ateneo de Davao – 84.55
Reginald Laco – De La Salle Lipa – 84.55
5th: Michelle Liao – University of Cebu – 84.5
6th: Jose Angelo David – San Beda College – Manila – 84.45
7th: Adrian Aumentado San Beda College – Manila – 84.35
8th: Rhey David Daway – UP – 84.2
Fideliz Cardellie Diaz – FEU-DLSU – 84.2
9th: Jamie Liz Yu – UP – 84.00
10th: Tristan Matthew Delgado – Ateneo de Manila University – 83.95