MICROSOFT DROPPED NOKIA FOR LUMIA PHONE
Microsoft droped Nokia logo for its smart phone launch. its Lumia 535. Smartphones have been droping prices there is no surprise about that. They were coming with high qualities day by day.
Now Microsoft  launches its next amrt mobile with ulti middle class affordable cost and with ulti features like 1gb RAM and 5MP camera front and back. 1.2ghz dual core processor.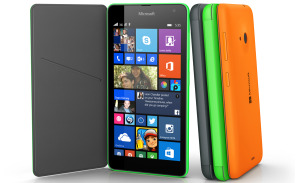 As we all know Nokia lost its significant market when mobile s started becoming smart mobiles like mobiles coming with operating systems. It lost its market to iOS and android feature mobile companies. As it turns out to be hard to be in competition it merged with Microsoft to release windows OS based mobiles.
Nokia Lumia to be Just Lumia
Nokia always tried to be different or unique in products. It worked at early stages but it lost all of it. In 2012 Nokia has 2.5% of smart mobile share in 2013 its 3.2%.
Android has 78.4% and iOS has 15.6% market. After merging some of lumia mobiles were released under NOKIA brand but now MICROSOFT dropping it for LUMIA 535. Now lumia 535 is coming in 3G single sim and 3G dual sim versions with windows 8.1 version. At  costs about 110 euros which is rs 8,400  INR.
Microsoft acquired Nokia for $7.2 billions.
Check out the trailer of lumia 535:
and also check out hands on lumia 535