ISRO creates history with Mars Mission
This is it!
ISRO
has created history!
Mangalyaa
n has been successfully inserted into Mars' orbit! India has become the first country in the world to do so in its First Attempt and ISRO has become the Fourth Space Agency to reach Mars!
Congratulations to all the Indians home and abroad, and especially to the team of scientists and engineers who worked day and night to achieve this astounding feat.
Congratulations to India's Space scientists for successfully launching Mars Orbiter Mission (MOM) Mangalyaan, Thanks to the encouragement and support given by the UPA Government headed by then Prime Minister Dr Manmohan Singh who launched the mission in Nov 2013. It must be noted that India is the only Country to have accomplished this Mission in its very first attempt, manufacturing all 100% components indigenously. It should also be remembered that our scientists were successful in launching the Chandrayaan to the moon in it's very first attempt also.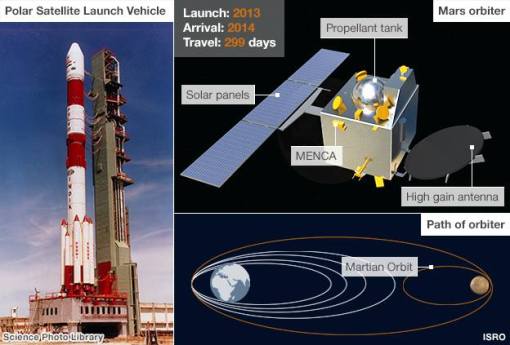 Budget for thi sproject is Total traveling distance 68 crore kilometers and total cost is 454 crore rupees.
India's maiden mission to Mars, the Mangalyaan, has arrived in orbit after a 300-day marathon covering over 670 million kilometres (420 million miles). Science writer Pallava Bagla traced its journey as it neared the Red Planet.
On the morning of 24 September, the Indian Space Research Organisation (Isro) slowed down the spacecraft sufficiently so it could be caught in the orbit of Mars.
"India will become the first Asian country to have achieved this and if it happens in the maiden attempt itself, India could become the first country in the world to have reached distant Mars on its own steam in the first attempt," said Isro chairman K Radhakrishnan as it approached.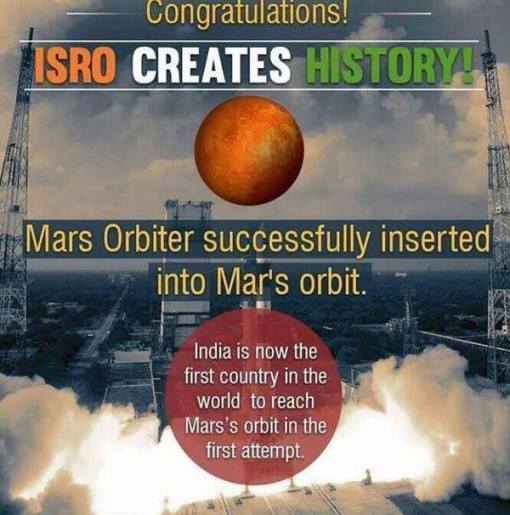 Both Russia and the US failed in their maiden attempts. The first Chinese mission to Mars, called Yinghuo-1, failed in 2011 alongside the Russian Phobos-Grunt mission with which it was launched. Earlier in 1998, the Japanese mission to Mars ran out of fuel and was lost.
India's Mars Orbiter Mission (MOM) – an indigenously made unmanned robotic mission weighing 1,350kg (2,976lb) – was launched from the rocket port at Sriharikota on the coast of the Bay of Bengal on a balmy afternoon on 5 November last year
The 4.5bn rupee ($74m; £45m) mission is, as Mr Radhakrishnan says, "the cheapest inter-planetary mission ever to be undertaken by the world".
On his visit to India's rocket port on 30 June, Prime Minister Narendra Modi said: "The [making of the] Hollywood movie Gravity cost more than our Mars mission – this is a great achievement."