July 25, 2015
Dismal day for India as Jayaram, Attri-Reddy and Akshay-Prajakta all lose-Russian Open
Dismal day for India as Jayaram, Attri-Reddy and Akshay-Prajakta all lose:
Vladivostok: Indian shuttler Ajay Jayaram lost his men's singles semi-final in straight games to be ousted from the $50,000 Russian Open Grand Prix on Saturday.The Indian challenge also came to an end as doubles pairs Manu Attri and B. Sumeeth Reddy and Akshay Dewalkar and Prajakta Sawant lost their respective semi-finals at the Sports Hall Olympic.The turned out to be a dismal day for India at the Russian Opening as the shuttlers,including Ajay Jayaram,failed to cross the semifinal hurdle and bowed out of the Grand Prix badminton event.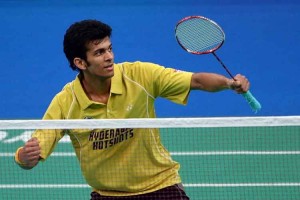 Indian Shuttler Ajay Jayaram ousted from Russian Open semis
Third seed Jayaram lost in straight games to top seed Tommy Sugiarto of Indonesia,while the men's doubles pair of Manu Attri and B Sumeeth Reddy and the mixed doubles combo of Akshay Dewalkar and Prajakta Sawant also went down in their repective matches.Jayaram tried alot for 17-21 loss to Sugiarto in a 33 minute clash,while the third party of Manu and Sumeeth saw thier gallant fight go in vain as they lost 21-19 7-21 16-21 to top seeda Vladimir Ivanov and Ivan Sozonov of russia in a 43 minute  match.
Akshay and Prajakta too suffered a 10-21 8-21 loss of Japan's Yuta Watanabe and Arisa Higashino.