Cream Bell, Mother Dairy, Kwality Wall's & More: The Hunt for the Best Vanilla Ice Cream
Cream Bell, Mother Dairy, Kwality Wall's & More: The Hunt for the Best Vanilla Ice Cream
Ice cream was perhaps our first sugar love and ever since it's been the answer to every mood swing. If you've ever given in to a tub of ice cream, you'll know what we mean. From the very first lick to the last bite, you can't help but lose yourself to its charm. It's the kind of stuff that sweet memories are made of. We all need our fix of something sinful, don't we?This time around, we went scoop by scoop to find out the most delicious vanilla ice cream that you'd love to end your meal with. A spoonful of this old-fashioned flavour is the only thing that can make a fudgey slice of cake or a warm apple pie memorable. It can make your senses sing and whisk you away to a happy land. It's the one flavour that you can pair with a million things and still love.At the start, many tasters were tempted to ask if there would be much of a difference in the taste of the ice cream between brands. Some even confessed that all vanilla ice creams almost taste the same – plain and simple. Turns out we were wrong.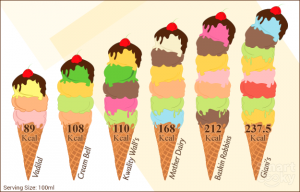 Selection Procedure
The blind taste test was conducted by the Food Team at NDTV. We picked six leading brands of ice cream across the country depending on their availability and popularity. We made sure they were all within the best-before date. We were disappointed on not being able to find Amul ice cream across retail shops and it had to be excluded due to unavailability.
Below are the contenders –
Cream Bell
Mother Dairy
Vadilal
Giani's
Baskin Robbins
Kwality Wall's
The Criteria
We blind tasted all the brands to find the best vanilla scoop -one that can sit pretty in a cup and even on top of a cone or give company to a dessert. The ice cream was tasted plain without any toppings. We nibbled, scored and broke down the nutrition labels. First, all brands were ranked on the following two parameters and then the labels were studied.
Taste:
The first thing to hit your taste buds should be the toasty vanilla bean flavour along with the signature fragrance. It should be milky and rich but that shouldn't overpower the vanilla flavour. Balanced sweetness and slight buttery notes round off the flavour.
Texture:
Good quality ice cream should be beautifully creamy, smooth and light at the same time. It's a disappointment when it's airy, foamy or icy – more like a mousse or sorbet. The texture should be firm. You don't want it to melt till you put it in your mouth. We love the snow-white appearance, bright and lively. Some of them may be pale with a faint yellow tinge.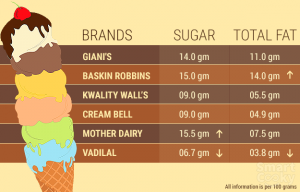 Before you jump to the results, here's something more that you need to know. Aside from the calories and sugar content, we'd also like to highlight a fact that most of us may be unaware of. We had raised this concern in one of our previous articles and we'd like to point it out again. We're talking about the difference between ice cream and frozen dessert. Frozen desserts are made with vegetable oil. Also, this is usually the vegetable oil that we want to avoid in our diet like coconut oil or palm oil. Ice-cream on the other hand, is mainly made from milk and dairy fat. You may have easily overlooked the tiny font but most brands that use vegetable oil will never mention the word 'ice cream' on the pack instead you'll find 'frozen dessert' scribbled somewhere.According to the Food Safety and Standards Authority of India, the definition of an ice cream, kulfi or softy ice cream means that the product is obtained by freezing a pasteurized mix, prepared from milk and /or other products derived from milk with or without the addition of nutritive sweetening agents, fruit and fruit products, eggs, etc. The packaging and pictures on a pack may make you think that it's ice cream but it is only when you pay attention to details and read the labels will you be able to distinguish.
Conclusion:
Most brands were within the range of Rs. 80 to Rs. 100 while Baskin Robbins and Giani's were on the steeper side. But in both cases, we felt that the taste justified the price. All brands use artificial colours and flavours. Mother Dairy, Giani's and Baskin Robbins do not contain vegetable oil and qualify as ice creams while the others fall under the category of frozen desserts and they mention the same on the pack. We missed the vanilla fragrance in most brands. As far as taste is concerned, Giani's topped our list although taking the health factor into consideration it contains the maximum calories.