Yuvraj Singh says I MAY NOT PLAY AGAIN FOR INDIA
Yuvraj Singh Doubts About is Spot in India Team
Yuvraj is one of the most talented batsmen INDIA has ever produced and he might be the only player who strikes the ball with ease. The talented left hander from PUNJAB has always been  there for the team as he was the go to man in all the matches that he represented the country.  He was always aggressive his fielding and took some extraordinary catches at crucial situations.
YUVRAJ tried very hard to make a comeback  into the Indian team after he was struck by life threatening  cancer. He was always given chances but we didn't see the vintage form of this graceful shot maker. He almost won the World cup's on his own as his form in these competitions is un describable. He was the first player to score thirty six(6*6) in an over.
 Yuvraj Singh A talented Batsman  May not play for India
He didn't show his magic in the recently concluded ICC T-20. He lacked match practice and which he agreed. But,  he could make it into the playing XI of India and he has to work very hard for this and it is not impossible as he faced similar circumstances in the past. The left hander has to  perform over his expectations and capabilities to come back into the team.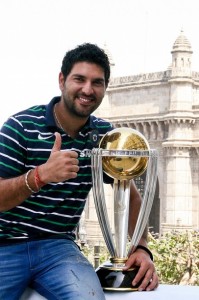 YUVRAJ expressed a dissatisfaction as he couldn't make use of the opportunities that were given to him post his recovery. He also said that he may not  play again for India as he was lacking match practice.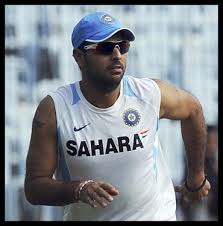 He said he is ready to grab every opportunity that is given to him like DULEEP TROPHY, RANJI TROPHY. He along with many other senior members like V.SEHWAG, H.SINGH, G.GAMBHIR have been denied a chance.
Speaking about YUVRAj, GANGULY said, "He is one of the finest batsmen India has ever produced, but his chances for getting selected  into WORLD CUP squad is totally out of picture".
HOPE HE GETS SELECTED FOR INDIA IN THE WORLD CUP……………