Yuvraj to Replace Ravindra Jadeja in World Cup 2015
Yuvraj to Replace Ravindra Jadeja in World Cup 2015
Yuvraj Singh the All Rounder who is top batsman and World Cup 2011 Man of Series is to replace in for Ravindra Jadeja . Yuvraj Singh who didn't find place in the 30 probables for India World Cup Team 2015 may have chances to be in the team .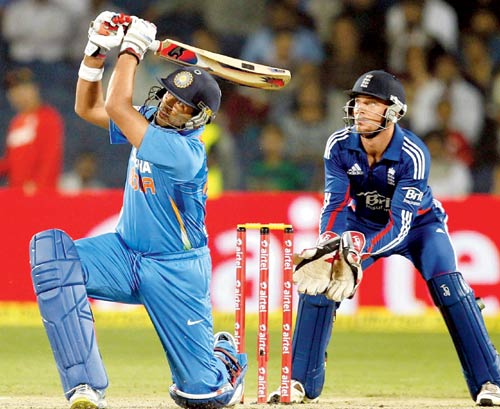 Ravindra Jadeja who is ruled out of test team with the Border-Gavaskar Trophy with Australia due to shoulder injury and was expected to recover by end of test series but still Ravindra Jadeja is still not fit for the game so it is expected that he will be out of the team and he will be replaced by Yuvraj Singh .
Yuvraj in for Ravindra Jadeja in World Cup 2015
Yuvraj who is in good form in the domestic cricket Ranji Trophy  from last few matches and scored back to back three centuries and seen in good form may be considered in the team . Yuvraj who in in all winning teams like World cup T20 2007 , World Cup 2011 and ICC champion trophy . In world cup T20 2014 a final match lost due to poor performance of Yuvraj should be also taken into consideration .
Lets hope Yuvraj  finds spot in World Cup 2015 Team India perform well .
For more cricket updates , Filmy news please stay tuned to our website topicsindia.com