Yennai Arindhaal Tamil Nadu and USA Theaters List:
Yennai Arindhaal is upcoming Tamil movie starring Ajith Kumar, Trisha Krishnan, and Anushka Shetty directed Gautam Menon. The Movie set to hit the theatres on 5th February 2015. The movie is having a great expectations that could beat the records created 'I' movie.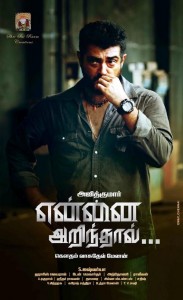 The movie is totally revolves around Sathyadev character from his childhood life to middle level age life. Actually the film has to release former year only but due some issues the movie delayed and finally coming in February.
The movie was releasing overall thousand plus screens in overall world. The movie set to hit overall 500 hundred plus screens in Tamil Nadu.
Yennai Arindhaal Theaters list in Chennai:
AGS Cinemas (Villivakkam)
Raj Theatre
AGS Cinemas OMR (Navlur)
Mayajjal Multiplex
Sathyam
Escape
Devi
Devibala
Abirami
Sangam Screen
PVR Screen
INAK Screen
Albert
Shanthi
Woodlands
EGA
S2 Perambur Screen
LUX Screen
S2 Thiyagaraja
Mayajal
I Dream
Agasthiya
Bharath
Maharani
Yennai Arindhaal U.S.A Theaters List:
Yennai Arindhaal movie is releasing approximately over hundred screens in abroad. Ajith market was improving from his previous projects screens in outside the country. His earlier projects Aarambam movie got fifty plus screens in abroad. With this many theatres how Yennai Arindhaal movie make records should wait for February 5th 2015.