Wrong Turn 6:Last Resort Movie Cast and Crew,Review,Rating
Cast and Crew:
 Anthony Ilott as Danny
Sadie Katz as Sally
Aqueela Zoll as Toni
Rollo Skinner as Vic
Billy Ashworth as Rod
Roxanne Pallett as Jillian
Chris Jarvis as Jackson
Rhys Coiro as Three Finger
Danko Jordanov as Saw Tooth
Asen Asenov as One Eye
Harry Belcher as Charlie
Luke Cousins as Nick
Joe Gaminara as Bryan
Talitha Luke-Eardley as Daria
Directed by Valeri Milev
Written by Frank H. Woodward
Music by Claudie Foisy
Edited by Don Adams,Cameron Hallenbeck
Distributed by 20th Century Fox Home Entertainment
Release dates October 21, 2014
Country: United States
Language: English
Review and Rating:   6.5/10
Wrong turn 6 this movie was directed by  Valeri Milev and Written by Frank H. Woodward. The film is scheduled to released on DVD on October 21, 2014.This Movie is an upcoming Horror film. scroll down for the Movie story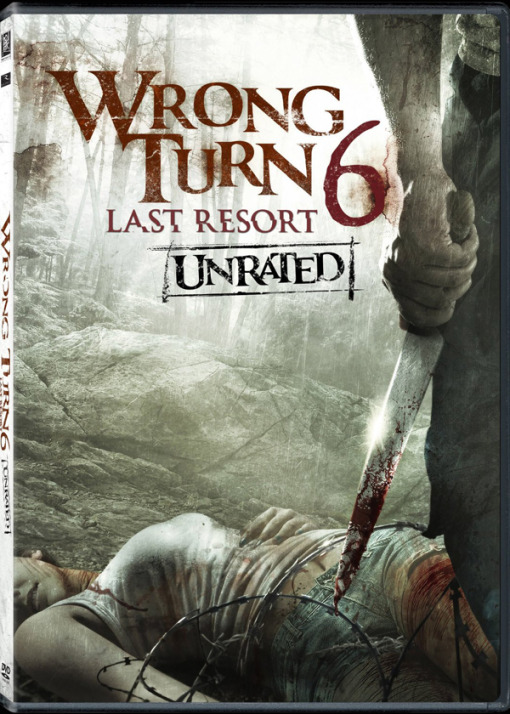 The unrelenting terror starts when an emotionally troubled young man, Danny (Anthony Ilott) inherits an isolated backwoods hotel that may hold the key to his secret past. A trip to the peaceful resort quickly transforms into a blood-soaked killing spree as Danny's friends are brutally murdered one by one.
Danny discovers that Three Finger and his flesh-eating kin are to blame, but the chilling surprises they have in store for him have only just begun. Danny ultimately learns that he has an unthinkable connection to the clan of hillbilly cannibals, but now that he knows the shocking truth, he will face an even more horrifying choice.
A sudden and mysterious inheritance brings Danny and his friends to Hobb Springs, a forgotten resort deep in the West Virginia hills. Hobb Springs is being looked after under the watchful care of Jackson and Sally, a socially and awkward couple who introduce Danny to the long lost family he's never known. Soon, Danny is forced to choose between his friends and his bloodline.