Vasuvum Saravananum Onna Padichavanga movie review and rating:
Vasuvum Saravananum Onna Padichavanga is an upcoming Indian Tamil romantic comedy film written and directed by M. Rajesh. It features Arya and Tamannaah in lead roles while Santhanam plays a crucial important role. Arya himself is producing the film under his production company 'The Show People' associating with Prasad V Potluri's PVP cinema.The film is scheduled for a worldwide release on 14 August 2015. The Official trailer was released on July 29th to mixed reviews and the soundtrack to positive reviews. Arya also appeared in a show in a Malayalam channel to promote the film in Kerala.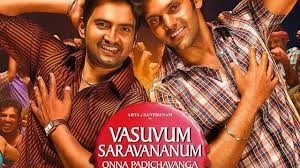 In November 2013, Arya agreed to finance and star in the lead role of director M. Rajesh's next venture, with Santhanam also brought in to the project to play a supporting role.[2] Nayantara was also reported to be a part of the film and an official press statement was released during the same month, stating that filming would begin in late 2014 after Arya had finished his ongoing commitments. In March 2014, Rajesh revealed that it would be a sequel to their successful comedy film Boss Engira Bhaskaran (2010) and that Tamannaah would also play a new character in the franchise. Nayantara later opted out of the film, and Rajesh began re-working the script.In October 2014, Rajesh then announced that the film would not be a sequel to his previous film and that it would be a new script.A launch event was held on 21 November 2014 and the team began production on the same day, with scenes involving Arya and Tamannaah shot.The cast and crew list was also revealed with Bhanu, Karunakaran and Vidyullekha Raman also included in the film.The movie title has been revealed as Vasuvum Saravananum Onna Padichavanga (VSOP) on November 24th. It was known that Prasad V Potluri is also producing the film under his banner PVP cinema along with Arya's 'The Show People'.
Directed by
M. Rajesh
Produced by
Arya
Prasad V Potluri
Written by
M. Rajesh
Starring
Arya
Tamannaah
Santhanam
Music by
D. Imman
Cinematography
Nirav Shah
Edited by
Vivek Harshan

Production
company

The Show People
PVP cinema

Release dates

Country
India
Language
Tamil

Vasuvum Saravananum Onna Padichavanga movie Casting and Crew:
Arya as Saravanan
Santhanam as Vasu
Tamannaah as Aishwarya
Bhanu
Karunakaran
Vidyullekha Raman
Siddharth Vipin
Renuka
Brindha Das
Venniradai Moorthy
Swaminathan
Surekha
Vishal as Siva (Cameo)
Wait and for more details..
Coming soon…………
Public Talk coming soon….