Uttama/Utama Villain Tamil Movie Review and Rating – Kamal Hasan
Uttama Villain Tamil Movie Review and Rating:4/5
Uttama Villain is an upcoming Tamil comedy-drama movie being directed by Ramesh Aravind and written by Kamal Haasan, presented by N. Lingusamy in association with hero Kamal Haasan and produced by S. Chandrahasan for Raaj Kamal Films International and N. Subash Chandrabose for  the Thirupathi Brothers. Uttama Villain  movie ready to hit screens on May 1st in both Tamil and Telugu versions. In this movie, Kamal hasan plays an 8th century theater artist and a modern-day superstar.
This movie features Kamal Hassan, Jayaram, Andrea Jeremiah, Pooja Kumar, Nassar, Parvathi, Parvathy Nair,Urvashi. Directors K. Viswanath and K. Balachander played cameo roles in this film. M. Ghibran composed the soundtracks for the album and background score for this movie. The Principal photography was commenced on 3 March 2014.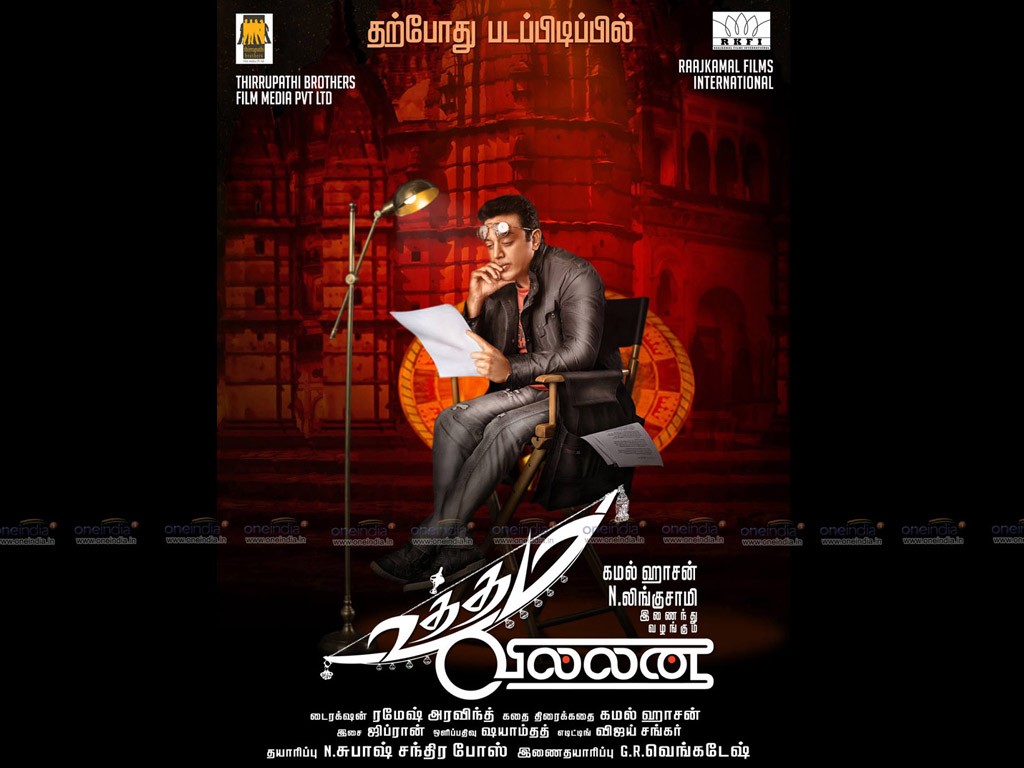 Uttama Villain Tamil Movie Review and Rating:4/5
Cast: Kamal Hassan, Pooja Kumar, Andrea Jeremiah, Parvathy
Director: Ramesh Aravind
Producer: N.Lingusamy, Kamal Hassan, S.Chandrahasan, N.Subash Chandrabose
Written by: Kamal Hassan
Music Director: M.Ghibran
Back Ground Music: Ghibran
Cinematography: Shamdat
Editing: Vijay Shankar
Production Company: Thirrupathi Brother & Raaj Kamal Films International
Distribution Company: Eros International
Release Date: May 1st,2015
Movie Running Time: 173 Minutes
Languages: Tamil & Telugu (Dubbed)
CBFC Rating: U
Genre: Comedy-Drama film
Uttama Villain Tamil Movie Review and Rating:
Cast Details :
1. Kamal Haasan as Uttaman/Manoranjan
2. K. Viswanath as Poornachandran
3. K. Balachander as Marghadarsi
4. Jayaram as Jacob Zachariah
5. Andrea Jeremiah as Arpana
6. Pooja Kumar as Karpagavalli
7. Nassar as Muttharasan
8. Parvathi Menon as Manonmani
9. Parvathy Nair as Indira
10. Urvashi as Varalakshmi
11. M. S. Bhaskar as Chokku Chettiar
12. Chithra Lakshmanan
13. Anant Mahadevan
14. Shanmugarajan
15. M Ghibran in a special appearance
Uttama Villain Tamil Movie critics review and public talk:
The Actor-filmmaker hero Kamal Haasan has dubbed in his own voice for the Telugu version of his Tamil release 'Uttama Villain' which is all set to be released in theaters on Friday.Singer S.P, Balasubrahmanyam (SPB) dubbed for Kamal before in all his Telugu movies and this time it is handled by Kamal himself and he did it twice when he was not happy with his output the first time. In fact, he was so particular about dubbing that, a report from the unit of this film.
Meanwhile The Madras High court dismissed on Monday a petition which sought to restrain the producer and director of this movie from releasing the movie on May 1 or any other subsequent dates all over the world in any form. Justice T. Raja told that the court was not able to find any merit in this petition, while dismissing the petition filed by the Vishwa Hindu Parishad (VHP), Tamil Nadu. According to the petitioner, as a whole, The Hindu religion, believes that God had taken avatars in order to establish dharma over adharma. One such avatar was Varaha. Varaha was the avatar of the Hindu God Vishnu in the form of a boar. At the relevant point of time, using devastating weapons, people on earth had not lived in harmony with each other or with nature. The goddess Bhudevi (earth) and sages on the earth had prayed to Lord Vishnu to get earth protected.
Meanwhile, demon Hiranyaksha, wanted to become the more powerful and performed severe penances, for the boon, praying to Lord Brahma that he should not be defeated by any man, god or animal. He listed the names of animals which he should not be defeated. However, he forgot to list the boar among them.
Basic Plot:
Rating: Coming Soon
Performances: –
Plus Points: –
Minus Points: –
Technical Aspects: –
Analysis: –
Final Word: –
BO Prediction: Medium to High