Unique idea of Police give 1 litre free petrol to traffic rule followers
Ahmedabad: to encourage citizens, the police in Ramol area in the city have started an unique way of giving an incentive of one-litre free petrol on Thursday to those who follow all traffic rules.
Police inspector PI Solanki said that more than 58 people, who were found to obeying traffic rules today got incentives of one-litre petrol in Ramol area in the city.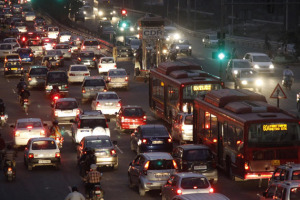 Solanki said that police checked vehicles for drivers and those who have all nacessary documents like licence and RC book as well as those wearing helmet and seat belts, were rewarded by us.
And Solanki said that they will continue this traffic awareness drive for at least three days  from 8 am to 8pm
And Solanki also said that ht e police has started this initiative to encourage citizens in following traffic rules and we got a good response from the people as well.
According to Solanki, he have got idea and he got it implemented to make people aware about traffic rules and to display a modest image of the city police.
He said he have cosulted two petrol pump owners and made them understand about this drive. Ultimately, they accepted it, on wednesday Rakhial police station in the city had launched a unique drive by gifting discount coupons of local eateries to those who follow traffic rules.