Shami eyes comeback against Proteas
After a good World Cup, Shami suffered a knee injury which required a surgery, leaving him bed-ridden.Eyeing a comeback in the upcoming home series against South Africa, fit-again Indian pacer Mohammed Shami said being bed-ridden for a month owing to injury was the worst phase of his career.After a good World Cup, where he shone with 17 wickets from seven matches at an average of 17.29, Shami suffered a knee injury which required a surgery, leaving him bed-ridden."We came back from the World Cup and during the IPL, I was told that the injury was really bad and I will have to get it operated. The surgery happened in Mumbai and I was told I will not be able to walk for a month. I was completely bed-ridden. Even when I had to go to the bathroom, someone had to take me there because I couldn't put the foot on the ground. That was a very tough time for me," he told 'bcci.tv'"As a sportsperson it is very difficult to sit at one place. It is not easy to accept that your body is not capable of simple movements. This was my first major injury and that one month was the most difficult period of my career so far," Shami recalled.Shami said he is hoping to be back for the series against South Africa, which comprises three T20Is, five ODIs and four Test matches, starting in October."It will take about 30 to 45 more days before I can bowl at my full pace and strength. But I don't want to hurry into anything because I still have time on my hand before the South Africa series starts," he said."I am confident that I will be fit in time for that series. My target is to make a comeback in that series."Shami said his rehabilitation is on track and he is recovering as planned."Currently I am going through my rehab in Chennai. I am working with Sud (VP Sudarsan, Team India's former strength and conditioning coach) and Yogesh Parmar (Team India's former physiotherapist)," he said.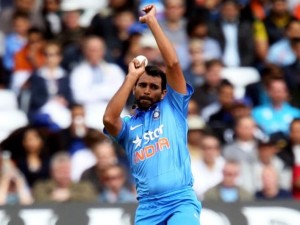 "It is an advantage for me to have these guys because they have worked with me before and they know my body well. They know how much stress my body can take and what my strength capacity is."Detailing his rehab schedule, Shami said, "I am doing mild physical activities now. I have started to run a bit and my confidence is getting higher gradually."I have also started to bowl a bit — not off my full run-up but from a couple of paces. Just to get that feel of delivering the cricket ball again, rolling my arm, feels good.I am bowling two-three overs at a stretch currently just to get the feel of my line, length and release."After a fortnight, Shami plans to head to the National Cricket Academy in Bangalore."I will spend 15 days here in Chennai and then go to Bangalore at the NCA, where I can start bowling in the nets and work on my bowling skills," he said."I want to be completely fit physically before I go for my first net session, even if it takes a week more. It will all depend on how much strength I get in the next 15 days," he added.