"T" Government to change name of "Nandi" awards
"T" Government to change name of "Nandi" awards :
The Nandi Awards which are used to appreciate the Actors and TV artists by commendation with the awards. But now this procedure will not occur in newly formed state Telangana or they are trying to change the name of "Nandi". The Telangana State Government was trying to keep their own formats for the state. The State Government was eradicating all the past procedure which are used when the state was united Andhrapradesh. But another state Andhrapradesh Government may continue this procedure of felicitating the Cinema or TV artists. Though there is no confirmation from the Andhrapradesh Government it was not sure that what it going to be happen.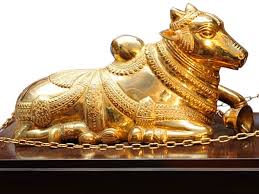 "T" Government Minister Talasani Srinivas announces change name of "Nandi" awards at Secreteriat:
After the expansion of Cabinet ministers in the Telangana Government, every branch was filled with the ministers. The new minister Talasani Srinivas Yadav is Cinematography and Commercial Taxes branch and the minister was announced about this issue at the Secretariat that " the name of "Nandi" awards will be changed or removed and replaced with another name which will be suggested by the Chief Minister K. Chandrasekhar Rao. The CM has many options of awesome titles in his brain. He also added that " the industry is having lot of associations and groups in both areas and government will take many steps to survive the wealth of Tollywood.
But again after the state bifurcation the two states are finding their own ways to present them as best. However, this decisions should not effect the Tollywood industry.