Surya vs Surya Telugu Movie Review and Rating :3/5
starring: Nikhil Siddhartha, Tridha Choudhary, Madhubala, Tanikella Bharani, Sathya
Director: Karthik Ghattamaneni
Producer: Malkapuram Sivakumar
Genre: Comedy Drama
Release Date: 5/3/2015
Surya vs Surya Telugu Movie Review and Rating:
Surya vs Surya film shows Nikhil Siddhartha in a new dimension like never before ever seen in a film . After Swamy Ra Ra and Karthikeya, Nikhil is expected to hit a hat-trick with the upcoming film Surya vs Surya.
In  this film Surya vs Surya, Nikhil will be seen as someone suffering from never before heard disease that keeps him from leaving indoors in the day time. His enemy is the sun and sunlight. Specks of light threaten his very existence during daytime. Could Surya be a vampire? Is this the Telugu version of the Edward Cullen's famous Twilight Series? This is yet to be seen.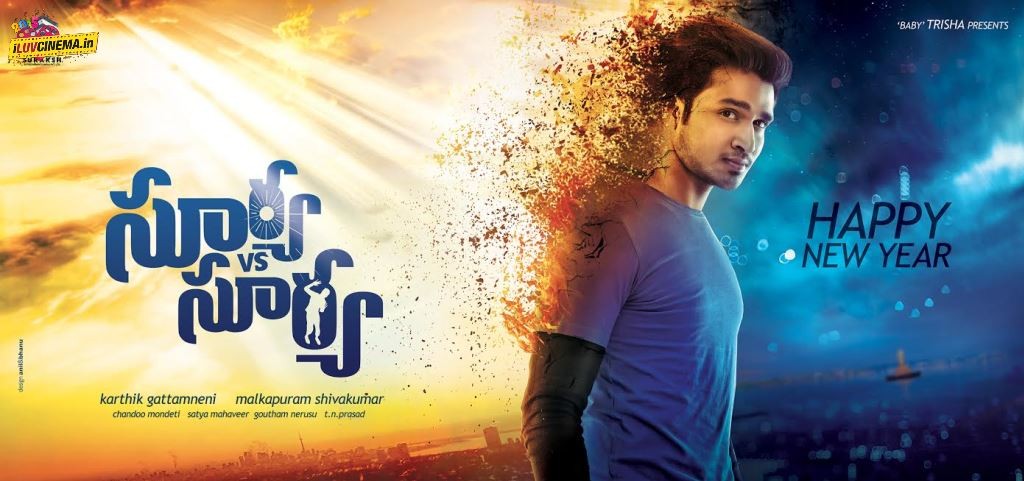 The film story looks quite rare and unexpected coming from TFI akka Telugu Film Industry. Surya vs Surya Trailer shows great visuals and has an impressive background score for one of a kind film.
Tridha Choudhary stars as the leading female role and Surya's romantic love interest in this movie. Actress Madhubala of Antaku Mundu Aa Taruvatamovie and Roja is also acted in this movie.
Surya vs Surya movie theatres list : check here
Surya vs Surya Movie Review and Rating : coming soon
Story:-
Surya(Nikhil) suffers from a rare genetic disorder called Porphyria which will kill him if he gets exposed to sunlight. Loosing no hope, Surya chooses to avoid the day time and manages his life during the nights.
Twist in the turn arises when a TV anchor named Sanjana(Tridha Chowdary) falls in love with him. As time passes by, she comes to know about Surya's disease and breaks up with him. Rest of the story is about how Surya overcomes his problems and wins his love back.
Plus Point:-
The premise and story of the film are quite good. The way a cute romance is set up around this unique plot point deserves applause. Nikhil has improved big time and plays his role wonderfully. He displayed superb emotions in many scenes and has reached a maturity in his acting abilities. Nikhil's look and performance will be major attractions of the film. Tridha Chowdary makes a decent debut. She looks beautiful and has also showcased good acting skills.
Comedy in the first half is quite entertaining and Tannikella Bharani must be given due credit for it. He along with Satya have played the supporting roles supremely well. It is also quite novel to see Tannikella Bharani in such a different and humorous role. Madhubala plays her mother's role well.
The night college scenes and chemistry between the three friends Nikhil, Bharani and Satya is excellent. First half of the film is quite breezy and entertains the audience big time.
Minus Points:-
After setting up an interesting first half, pace of the film slows down completely. The movie gets emotional and some unnecessary scenes take center stage. The way the story has been narrated during this part leaves a lot to be desired. The major conflict point in the film is left behind after a while.
Even though the film has its moments, the relationship of the lead pair lacks clarity. The way they patch up during the climax looks hurried up. The track between Nikhil and Mast Ali is dragged at times. Irrelevant and unnecessary emotional songs take center stage and spoil the flow of the film.
Technical Aspects:-
Production values of the film are top notch. Hyderabad has been showcased in a superb light and major credit should go to the camera department. Music of the film is just average and could have been a lot better. Dialogues are ok and so is the art direction. Screenplay of the film is decent during the first half but gets confusing during the second.
Director Karthik Ghattamaneni makes an ok debut. He has chosen a good story and has also managed to set it up nicely till the first half. But after a point, he loses control as the film lacks proper direction.
Verdict:-
On the whole, Surya vs Surya has some decent moments. Nikhil's performance, interesting story and entertaining first half are major assets of this film. Nikhil's popularity will bring in good crowds but a slow and predictable second half spoils the flow of the film and makes it just a one time watch.
Surya vs Surya Movie First Look Teaser | Trailer | Official | HD | Nikhil Siddharth: