Sunil upcoming movie Heroine- Miss India Priyanka Chopra Sister,Mannara Chopra
After the disaster of Mr Pellikoduku Comedy actor Sunil was away from the characters and also more serious in selecting movies.Sunil has done a posh hero character for the first time in his career. He did pretty well. But there is no consistency in his characterization. He has worked really hard and it shows in dances and fights. Isha Chawla is just okay. She looks better in non-traditional dresses in the movie. Sunitha's dubbing is good. Ali manages to evoke few laughs as a friend of hero. The guy who did Nair character is fine, but his styling looks odd. The guy who played negative role is normal. The director has selected the right guy in climax fight – both sunil and fighter match pack to pack. Director Devi Prasad did a guest role of marriage registrar and he is nice. Ahuti Prasad's sugar character is well conceived. Ambati Srinivas's (Vaddu Saroja fame) belly hiding technique worked out well. Ravi Babu's funny character is effective. Kadambari Kiran is good as innocent and loyal servant of Ahuti Prasad.After so long time he is again start continous movies shooting.Josh fame Vasu Varma is making a movie which was directed by Vamshi Krishna Akella,Sunil conformed to work with them.From August regular shooting will be started,In this movie Sunil going to  romance with the Bollywood actress.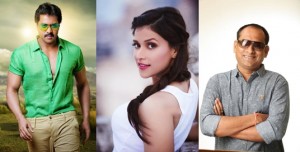 Sunil Romance with the Bolly actress Mannara Chopra:
Ex-Miss India,Boolywood  star heroine Priyanka Chopra sister is selected as the heroine for the Sunil movie.Beside Sunil ,Mannara Chopra is going to act in this movie.The first movie of Mannara Chopra is Zid with Karanvir Sharma which was directed by Vivek Agnihotri released in 2014.Kabir Sunil introduced in Jill movie is playing negative role in this movie.Raksha fame Vamshi Krishna said that apart from the comedy the movie also be an action entertainer,this movie will be with all variations.Sapthagiri is acting with fullenght in this movie.
Watch more new updates here………….
Coming soon……………..