Sunil Narine Withdraws from World Cup 2015:
Sunil Narine withdraws from World Cup 2015. Because Narine has to bowl in new action but he was still not confident to bowl in a new action. He was claimed to be one of best off spinners in present cricket. Sunil Narine was one of bowler for West Indies and this decision would make an impact of West Indies performance in World Cup 2015.
26 Year old player was on positive hope that he could get back to international cricket. Narine was suspended in Champions League T20 tournament final with his suspicious bowling action. Actually Narine action was claimed that below fifteen degrees. Then he taken many remedial steps to avoid his deliveries under the border degrees but it was giving output. So, finally he made a decision to quit from the world cup squad to improve his new action to bowl in a confident way.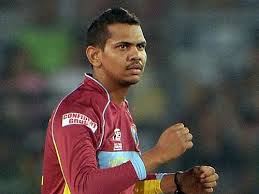 More Details about Sunil Narine Withdraws from World Cup 2015:
Not only off spinner Sunil Narine and off break bowler Saeed Ajmal also not permitted by ICC for World Cup. 37 year old bowler was unable to bowl in perfect action under certain rules. Without his presence also Pakistan was not confident with their bowling squad. Recently Ajmal also tried for official test and was expected to give clear way to World Cup 2015 by ICC. But there hasn't been any news were came out.
Narine said that" I would like to thank West Indies Cricket Board for their support and wish the West Indies team the very best for the World Cup campaign."