Watch Shoelace Trick in 'I' Movie.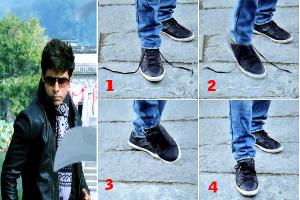 Shoelace Trick In 'I' Movie:
The Trailer of Director Shankar's 'I' Movie Starring Amy Jackson and Vikram Playing the  Lead Role. Movie Fans, Actors and Directors Every one Waiting for the ace Director Shankar's 'I' Movie to Release.
Director Shankar is Famous For his Visual Effects, and Graphics. Every one Fascinated by the Scene Where Actor Vikram ties his Shoelace without Bending and Without Touching the shoelace in a fight seen.the fight Sequence in Vikram's 'I' Movie was shot in China.
How To Do The Shoelace Trick :
While many people think that it's a VFX,but the truth is it's a simple trick that even you can also perform with a little bit of practice.al you need to fallow the below video to do the 'I' Movie shoelace trick.
 Read The Shoelace Trick in 'I' Movie:
To do the shoe lace trick you need a fake shoelace which should covered by your Trousers.you just create an impression that your shoelaces being untied and you should be able to hide the fake shoelace very quickly from the audience eye sight.
Precautions For Shoelace Trick:
Tie the fake shoelace with a thread and hold it in your hand and then pull the thread when you want to hide the fake shoelace.
while performing the Shoelace trick,all you need to do is just start shaking your leg,and pull the fake shoelace quickly.make sure that the real shoe laces visible
Watch The Shoelace Trick Video :
Watch Shankar's 'I' Movie Trailer: