Shah Rukh Khan's Wankhede Ban Lifted by Mumbai Cricket Association
Ashish Shelar, Mumbai Cricket Association vice-president on Sunday said after the managing committee meeting they decided to lift the ban on Shah Rukh Khan from entering the Wankhede stadium.Mumbai Cricket Association on Sunday lifted their five-year ban on Bollywood superstar Shah Rukh Khan from entering the Wankhede Stadium.MCA vice-president Ashish Shelar confirmed this to the reporters after the MCA managing committee meeting.Shah Rukh Khan is the co-owner of Indian Premier League (IPL) franchise Kolkata Knight Riders (KKR ) along with actress Juhi Chawla.Shah Rukh and some senior MCA officials had a heated argument after an IPL game between Mumbai Indians and Kolkata Knight riders two years ago. Khan started celebrating his team's win on the field after the game's play and was objected to by a security guard.The security guard said that when he ordered Shah Rukh's companions to stay off the ground, the actor began to throw abuses at him and also threatened him.However, Khan had a different explanation to that incident. He said his children were physically manhandled in the name of security by guards, which had angered him.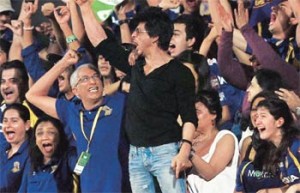 Also read: MCA lifts ban on Shah Rukh Khan as IPL final hangs in balance.The MCA defended its guard and accused SRK of misbehaving 'on a high' following which their managing committee banned him from entering Wankhede premises for a period of 5 years.
Shah Rukh in trouble after allegedly clashing with MCA officials
Shah Rukh Khan refused and got allegedly abusive with some officials. The MCA officials, who accused the actor of being drunk, lodged a police complaint against Shah Rukh and later slapped a five-year ban on him from entering the premises. Shah Rukh, however, denied being drunk and clarified that he was reacting to the "obnoxious" behaviour of officials at the stadium. When KKR last played at the Wankhede, Shah Rukh along with the other co-owners of the team visited the team hotel and watched the match on television from there. The other conditions that the IPL authorities have put forward are: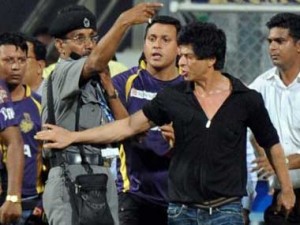 > 85 per cent car parking space for VIPs, BCCI and IPL members
> The number of volunteers to be reduced
> Rs 50 lakh paid to Mumbai Police to be reduced
> More hospitality boxes for the final
> Advertisement rights at the stadium