IRON MAN OF INDIA Sardar Vallabhbhai Patel Biography
Vallabhbhai Jhaverbhai Patel was one of the greatest freedom fighters of Indian Republic. Sardar Patel was born on "October 31″,
in the year 1875 in a small village near nadiad in gujarat state.patel father "jhaverabhai patel"and mother "laadbhai" were farmers.
Sardar patel was a strong man and also a hardwoker.when ever sardar used to get leisure he helped his father and mother in their work.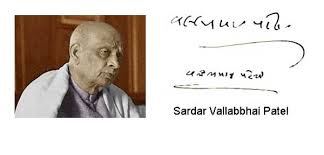 sardar patel studied in N.K HIGH SCHOOL at petlad.and passed his matriculation in 1896.sardar was a person of independent nature,he hate working
for britishers.
He started his own law practice in godhara,very soon he became famous in the society.then after he started supporting his total family financialy.
in 1904 sardar patel got married to "jhaberaba".but unfortunately very soon in 1909 she became seriously ill and was taken to bombay for treatment.at that time sardar patel had a hearing of an urgent case wich let him to leave his wife in the hospital.while he was in the court session he came to know that his wife was
no more.even though on hearing that news he continued the session with brave heart.
He bacame extremely popular among the people and he got elected for muncipal corporation in 1917,at that time the "SWADESHI MOVEMENT" was at its peak.sardar was very impressed by gandhiji's speech.then he started participating in freedom movement.the british government declared to confiscale all the lands of farmers .sardar patel brought all the farmers together and fought against it.then people started calling him with the name sardar.
IRON MAN OF INDIA Sardar Vallabhbhai Patel Freedom  Struggle
The british government considered patel as a threat and they arrested him and imprisoned.in 1942 patel took part in "QUIT INDIA MOVEMENT".he was arrested and sent to ahmednagar jail. even after gettng independence in 1947,hyderabad was a saperate state under the rule of nizam nawab's.sardar patel was the only person who combined hyderabad in india.sardar patel strong efforts and commitment towards the unity of nation made his success to combine hyderabad in india..for that great achievement he was awarded the name "IRON MAN OF INDIA".
On 15th december 1950 he died.in 1991 the greatful nation conffered upon him the honour of "BHARATA RATNA"