Rudramadevi movie arriving updates:
Gunasekhar's dream project Rudramadevi is readying for grand release on Sep 4. In the meantime Gunasekhar increased the film's promos and he is attracting all with his unique promos on social media.Gunasekhar who introduced all the characters of the film releasing their first looks on social media following Rajamouli's style who implemented the same thing for his Baahubali,now decided to hit the roads.He announced that entire cast and crew will promote the film arriving on Rudramadevi chariot. Rudramadevi chariot specially designed for the promos will be touring Telangana and Andhra Pradesh. Filmmakers also announced surprise prizes for people who watch and take snap of Rudramadevi chariot and post it on Filmmakers facebook.Film stars Anushka,Rana,Allu Arjun in important roles. Ialayaraja is the music director for the film which is releasing in 3D format. Mega Star Chiranjeevi gave voice over for the film.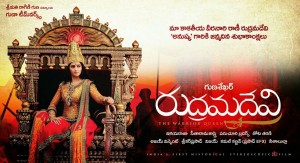 Rudramadevi movie Story Synopsis:
Gunasekhar produced Rudramadevi is Indian Tollywood first 3D historic movie is set to release in this December 2014. The movie is starring Anushka Shetty, Allu Arjun, Rana Daggubati in lead roles where as Prakash Raj and Krishnam Raju are playing the supporting roles. According to the sources , we came to know that the producer Gunasekhar is going to launch the movie in two different languages Telugu and Tamil simultaneously. As the movie is much awaited Tollywood movie, audience are so excited to watch Anushka Shetty as Rudramadevi with her gergious looks on big screen. As we know, she is well know for historic movies. She had given some hit movies to  Tollywood. So we can expect the same from upcoming movie Rudramadevi.The movie direction is given by Gunasekhar himself. Sound Tracks are composed by lliyaraaja keeping in view of audience needs.Rudramadevi is having 13th historic based story about Telugu Queen of Kakatiya Dynasty. Here inside the story, Anushka wil be seen as Rudramadevi. Her designing costumes looks gergious handle by Neeta Lulla. How ever well known south-Indian actor Allu Arjun will be seen as Gona Ganna Reddy in this movie and his character which he is playing is as importance as Rudramadevi character of Ansukha Shetty. He has also given his special appearance in this movie. This is the first Indian movie, spent highest budget on female lead character.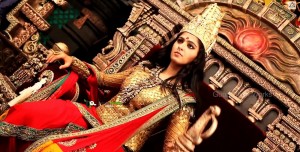 Rudramadevi movie Castong and Crew:
Producer : Gunasekhar
Director : Gunasekhar
Starring :Anushka Shetty
Allu Arjun
Rana Daggubati
Krishnam Raju
Prakash Raj
Suman
Adithya Menon
Nithya Menon
Catherine Tresa
Music by : Ilaiyaraaja
Production company : Guna Team Works
Genre : Action & Drama