Rahasya Hindi Movie review and rating Public talk
Rahasya (hindi) Movie review and rating : 2.5/5
Rahasya is a 2015 Hindi feature film that is directed by Manish Gupta. The film stars Kay Kay Menon, Tisca Chopra, Ashish Vidyarthi, Mita Vashisht and Ashwini Kalsekar. The film was inspired by the Aarushi murder case, which was met with some criticism by Rajesh and Nupur Talwar. The film is set to release on 30th January, 2015.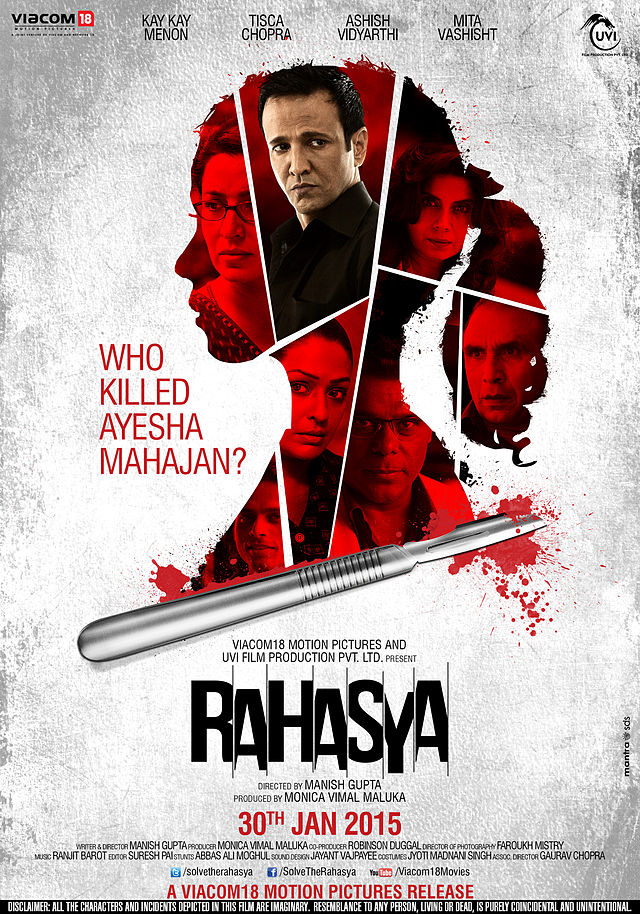 Rahasya Hindi Movie review and rating Public talk :
Rahasya (hindi) Cast and Crew :
Directed by Manish Gupta
Produced by UVI Film Productions Pvt. Ltd.-Mrs. Monica Vimal Maluka
Written by Manish Gupta
Starring Kay Kay Menon , Tisca Chopra , Ashish Vidyarthi , Mita Vashisht , Ashwini Kalsekar , Nimai Bali , Kunal Sharma
Cinematography Faroukh Mistry
Edited by Suresh Pai
Rahasya Hindi Movie review : 
The film revolves around the story of an 18 year old girl, Ayesha Mahajan (Sakshi Sem), who is murdered in her own house. Her father Sachin Mahajan, played by Ashish Vidyarthi is deemed the prime suspect for the murder. Kay Kay Menon, in the role of CBI Chief Sunil Paraskar picks up the case and soon finds evidence that makes it more difficult to determine who exactly is responsible for Ayesha's death. As various suspects and their motives are being tested, what comes out is a riveting story of a double murder.
The film also stars Tisca Chopra, Mita Vashisht and Ashwini Kalsekar in key roles.
Ashish Vidyarthi as Sachin Mahajan
Tisca Chopra as Aarti Mahajan
Kay Kay Menon as Sunil Paraskar
Mita Vasisht as Brinda Chhabria
Kunal Sharma as Riyaz Noorani
Ashwini Kalsekar as Remi Fernandes
Sakshi Sem as Ayesha Mahajan
Bikramjeet Kanwarpal
Rahasya Movie rating : 2.5/5