PUNE GIRL WINS DOODLE 4 GOOGLE COMPETITION
DOODLE 4 GOOGLE COMPETITION WINNER IS PUNE KID
Google's annual Doodle 4 Google contest is over. This contest takes place all over nation. It has announced its winner as 10th grader Vaidehi Reddy from pune. The winning doodle will be showcased on Google site on November 14th on the eve of children's day.
The Doodle 4 Google competition finalists were taken to Delhi where there search gaint judges have selected Vaidehi  from them. It is also based on public votes. They have also revealed the top contenders in different groups based on their grades.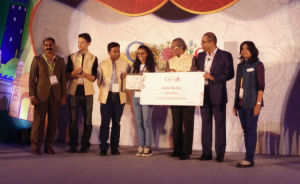 Theme of this year Doodle 4 Google was 'A place in India I wish to visit' and Vaidehi Reddy's winning doodle portrays about  beauty and culture of Assam. And last year's winner was also from Pune. He have created a beautiful portrayal  of accomplishments of Indian women.
Doodle 4 Google Competition 2014 Winner
This year Doodle 4 Google national Winner will receive a medal from Google, a chrome book and a free trip to the location featured in her Doodle. And about other 12 finalists their Doodles won't be showcased on the search engine. Their Doodles will be exhibited on Doodle website. And this finalists also get Chromebook.
And according to a post on the official Google India blog over 1 million participants from more than 2100 schools across 50 states have participated. The contest was announced in august and it is for 1-10 classes students.