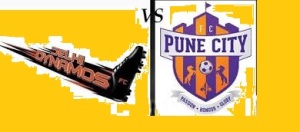 DELHI DYNAMOS dominated the game throughout as PUNE CITY FC had a very tough outing. Although, the score reads(0-0) it was the Delhi club which had the upper hand all the way. They had good solid power stepping ahead as their forwards continued the attack towards the end. At one stage people thought that the tradition will follow again(Home team winning as in the first two matches).But it was the solid defence and an extraordinary bit of goal keeping that saved the match.
Pune city didn't show any bit of discipline until the last half hour in which they were aggressive and the shots on target clearly show that as Delhi had  seven(7) and Pune only had two(2).On the other hand Delhi had many stars like  Mads Junker and their Marquee player Del peiro who dominated the show. This Italian was always on the move and almost gave the home side a most vital goal.
IMPRESSIVE INDIAN:
Francis Fernandis: This Indian dominated the show throughout the game as he made some crucial passes which made him the valuable player for Delhi. He led the Indian attack from the front and is definitely a player to watch out for.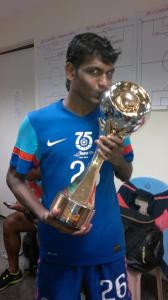 INTERNATIONAL PLAYER'S WHO DOMINATED:
Alessandro Del Peiro: This Italian was the  marquee player for the Dynamos and proved his worth as he made some crucial interceptions and was also chosen as the "Hero Of The Match".
Dudu Omagbemi: This Nigerian was very much impressive and was Pune city's one of the shining stars. As he fought hard until the last moment keeping the hopes alive for PUNE FC.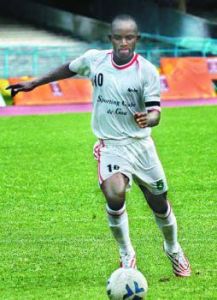 HIGHLIGHTS OF THE MATCH:
7:42– Pune on the charge and Delhi defence comes good. (0-0)
8:20- Delhi bounce back but straight to Belardi.(0-0)
18:11- SAVE!!!!!! Belardi with a save a good ball by Delhi.(0-0)
32:00- GOAL!!!! oh no its OFFSIDE!!!!.Pune fails to make a goal.(0-0)
57:42- A top class save by Belardi.(0-0)
MOMENT OF THE MATCH:
Dos Santos had it almost through but the ball was deflected of the pole. Much to the disappoint of the home crowd.
HERO OF THE MATCH:
  ALESSANDRO DEL PIERO