Pragyan Ojha  is banned for illegal bowling action
Pragyan Ojha left arm spinner played for India as not in Team India from November 2013 as his bowling action as some faults .Pragyan Ojha who played for Hyderabad team for Ranji Trophy matches is tested with three member team at Chennai and was banned because of his faults in Bowling action .
According to ICC (International Cricket Club) every bowler should not bend his elbow more than 15 degrees . Pragyan Ojha bowls with is elbow bent more than 15 degrees . So the bowler is banned by BCCI(Board of Cricket Control in India ) .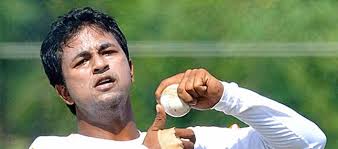 Previously many bowlers are been  tested for there bowling action . Pakistan Spinner Sajid Ajmal was also tested by ICC and he was not in the World Cup team for Pakistan .
 BCCI banned Pragyan Ojha  is for illegal bowling action
Pragayan quickest Indian bowler to get 100-wickets. He has taken 113 wickets from 24 Test matches and 21 wickets from 18 ODIs. He also played 6 T20 Internationals in which he got 10 wickets.
Pragyan Ojha the Odhisha player plays for the Hyderabad Ranji Team and HCA offically announced that he was ruled out for his bowling action .
Many bowlers like legendary Spinner Muttiah Muralitharan was also suspected for the Bowling action but was given a clean chit by ICC (International Cricket Council) .
For more Sports updates , Cricket updates and many more please stay tuned to our website .