Pilla Nuvvu Leni Jeevitham Movie Review and Rating
Pilla Nuvvu Leni Jeevitham movie starring Sai Dharam Tej and Regina. The Movie is releasing on Children's day 14th November 2014. The movie has high expectations with audio release. Sai Dharma Tej was nephew of Megastar Chiranjeevi.
Actually Pilla Nuvvu Leni Jeevitham is the second film for Sai Dharam Tej but it was his first movie releasing tomorrow. His first movie is Rey but unfortunately it has not released which was directed and produced by Y. V. S. Chowdary . Rey has to release this Diwali but due to some reasons it is not still confirmed by film unit.
In this film, the Sai and Regina has worked chemistry between this pair. Regina was permeating herself rapidly in the industry and she was already proved herself in acting and as well as glamour purpose roles. Jagapati babu plays an important role in this film. Recently Jagapatibabu is playing negative roles which is giving good response for the films. Sai also set release for another movie Subramanyam For sale which may be release in 2015 March.
The film get the positive response by the audio and that credit for Anup Rubens the music director of the movie. He gave some extraordinary music to this film. Recently Anup looks in good touch and he is gaining big projects with NTR and other and he proving himself. Anup gave good songs especially "Pilla neekosame puttinane " song got incredible response.
Sai can prove that he has skill for the films with his first film only as we have seen his performance in trailer and again Sai Dharam Tej was making a grand entry by Pilla Nuvvu Leni Jeevitham and finally another hero emerges from Mega family.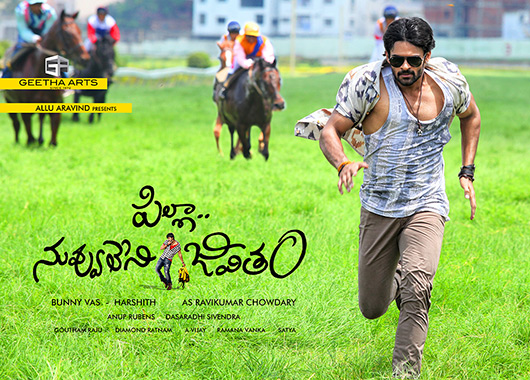 Pilla Nuvvu Leni Jeevitham Movie Cast and Crew :
Director : A.S.Ravi Kumar Chowdary
Producer : Allu Aravind, Dil Raju(Presenters) & Bunny Vas, Harshith(Producers)
Director of Photography: Dasaradhi Sivendra
Artists: Sai Dharam Tej, Regina Cassandra, Jagapati Babu, Prakash Raj
Music : Anoop Rubens
Editor : Goutham Raju
Pilla Nuvvu Leni Jeevitham Movie Rating : 3.5/5
Pilla Nuvvu Leni Jeevitham Movie Review:
Sai Dharam Tej has done quite well in this film. Tej is very good in his dances and has worked hard on his performance n this movie. For just his second film, he shows decent maturity and carries off a tough role well. He needs to work on his looks and facial expressions a bit more in the future.
Regina Caasandra is getting quite gorgeous and superb with every film. She looks beautiful in Indian attire, and has done well in the emotional scenes as well. Once again, Jagapathi Babu does an awesome supporting role and he proves he is best.
Comedy factor is quite good and Raghu Babu walks away with all the credit here in this movie. He is hilarious and provides superb entertainment along with Jayaprakash Reddy in this movie comedy is superb.
Pilla Nuvvu Leni Jeevitham Trailer :