Paddanandi Premalo Mari Telugu movie review and rating :
Paddanandi Premalo Mari‬ ‪Movie is an upcoming telugu Movie directed by Mahesh Upputuri and produced by  Nallapati Ramachandra Prasad .  Leading roles in this Movie are Varun sandesh, Vithika Sheru . Varun sandesh was eagerly waiting for a blockbuster .This movie to be released on February 14 on occasion of valentines day . Music and background score was composed by Khuddus A R .and lyrics by lahari prasad . Audio was released recently .
Vithika Sheru of Prema Ishq Kadal fame is playing the female lead role. The movie will be in theaters( Lovers special) on valentines days and hope will be success.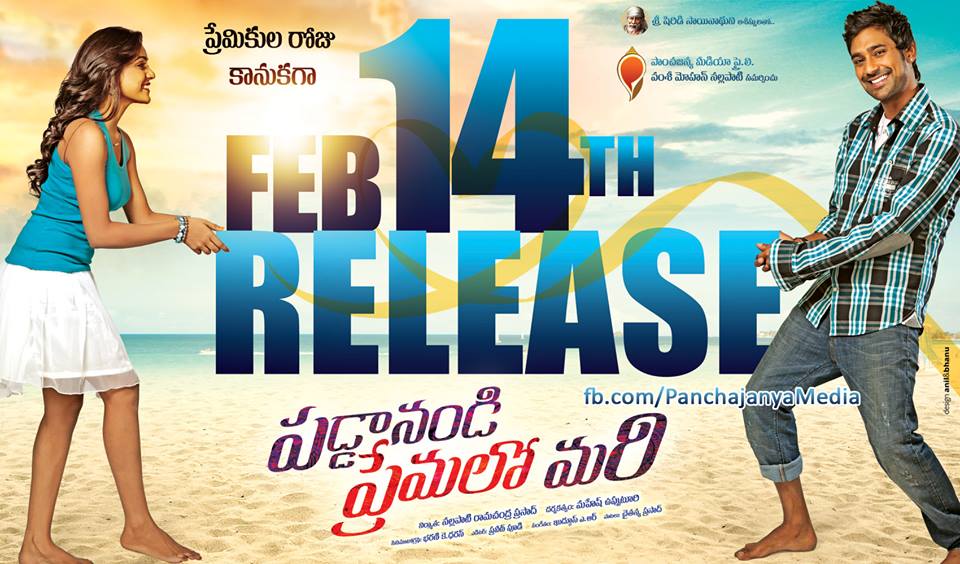 Paddanandi Premalo Mari Cast and crew
Movie Name : Paddanandi Premalo Mari (2014)
Cast : Varun Sandesh, Vithika Sheru
Music : Khuddus A R
Lyrics : Chaitanya Prasad
Director: Mahesh Upputuri
Producer : Nallapati Ramachandra Prasad
Label : Lahari Music
Genre:: Romantic-Comedy
Paddanandi Premalo Mari Telugu Movie Rating : 2.75/5
Rating:2.75/5
review :Romantic and comedy entertaineer
positives:varun sandesh acting,twist
Final Verdict : watch the Movie in threat-res only dont encourage piracy .
Paddanandi Premalo Mari Telugu Movie Public talk:
Ram(Varun Sandesh) is a college going youth who falls in love with Shravani(Vrithika Sheru). As time passes by, even Shravani accepts his love and when everything seems to going fine, a small misunderstanding develops between the couple and they get separated.
This is also the time when a dreaded goon named Lankapathi(Aravind) lands his eyes on Shravani and decides to marry her. Rest of the story is as to how Ram successfully manages to save her from Lankapathi and also clears his misunderstanding during the course of time
Stay tuned to our website for movie reviews , ratings . gossips and many more ……