Not Just Baahubali, Rana Daggubati Hints At Working for 'Leader' Sequel
Not Just Baahubali, Rana Daggubati Hints At Working for 'Leader' Sequel:
Currently the flavour of the season after a solid performance in SS Rajamouli's blockbuster Baahubali, actor Rana Daggubati has more good news in store for his fans. Even as he is gearing up to shoot for Baahubali-The Conclusion, Rana revealed that he will also be seen in the sequel to Sekhar Kammula's political thriller Leader.After successful movie hits Rana is in next comingup movie shooting.Leader success got Rana positive response from audience .Rana has certainly lived up to the expectations of the audiences with his looks and thoroughly trained histrionics. His base voice is a major asset to his future. His dialogue delivery is fine and in tune, synchronism with the expressions. Sekhar Kammula tries to juxtapose the political degradation with the movement for the Independence. Just like any other film, the director concentrated on the much used and abused subject of rampant corruption. Like in Shivaji, the hero tries to pull out the black money from the very few in society for the general good. To a large extent, the director, who mostly dwelt on the love subjects, failed to bring the seriousness that is involved in making a politically volatile story. The influence of Ramgopal Varma?s Sarkar can be seen on Sekhar Kammula in certain scenes.After success of Leader The team had plan for sequel of Leader.Responding to a fan who praised his performance in Leader, Rana tweeted, "Thank you chief! Leader 2 work in progress as well!."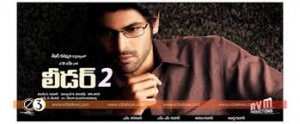 Rana Daggubati Next Sequel:
Rana Daggubati who was mesmerizing the fans and movie lovers with different kind of characters from Telugu Cinema to Hindi Cinema was thrilled everyone with his spell bounding performance as Bhallaladeva in Baahubali.And it was not an exaggeration about Rana Daggubati that he was the show stopper in Baahubali. His performance was lauded by all the critics from Indian fraternity for his wonderful performance in Baahubali.Well, Rana Daggubati who made his debut with Leader movie was bringing a sequel as Leader 2. This was revealed by Rana on social network in a reply to one of his fans. Presently ,Rana Daggubati was doing the Tamil film.Bangalore Days, which was the Malayalam remake. Rana Daggubati in a special role in Rudhramadevi was slated to release in the month of September 4th,2015.