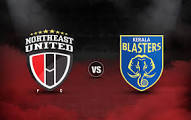 NorthEastUnited  stunned the favourites  Kerala blasters with a goal difference of(1-0).This only goal of the match was scored by the Spanish international "Koke".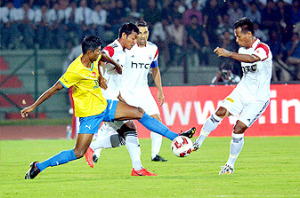 Not that Kerala didn't perform well it wasn't their day. They had to beat NE FC's goalkeeper "Alexandros  Tzorvas" who was at his peak today just blocking everything that comes his way and was rightly chosen as the "Hero of the match".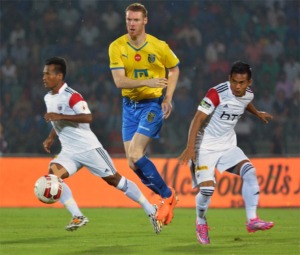 INDIAN'S COMING GOOD:
It was only Indians that had to play well for a relatively inexperienced NorthEastUnited and they came good and the show was dominated by" Durga" who had three shots on goal back to back almost one through NorthEastUnited really stunned the favourites Kerala Blasters by dominating the game and using the opportunities that were given it was only the Indian players that had to come good for any of these two teams to win and it was NorthEastUnited who had their young guns like durga shining all the way. It was NE FC's Koke who stunned the goalkeeper  of Kerala to make it a lead against their name.
KERALA'S VIALIANT EFFORTS:
Kerala fought very hard and they were lead by their "Marquee player(David Jones)".They made two efforts in which ball passed goal post but by then the offside flag had been raised.
HIGHLIGHT'S OF THE MATCH:
15:40: GOAL!!!!!!Kerala blasters sent the ball past the goal post. OH!!! outside.
25:55: Kerala back once again with the ball an awesome block. Alexandros Tzorvas take a bow.
32:10: Durga from NE FC's had the ball almost through before a full stretch save from David jones.
45:00: GOAL!!!!! An awesome ball play by NE FC's Koke  to send into the goal  post  its 1-0(NE FC)
70:06: Again it's the same mistake  an offside Goal.
75:10: Again its almost goal for Kerala but again a professional bit of goal keeping from the  Greece national.
89:52: It was a good ball play for Kerala this time England's Micheal Chopra fails to make use a direct pass.
INDIAN PLAYER'S WHO IMPRESSED:
Durga Bora: This youngster  has impressed one and all with his ball play. He almost made a goal against his name. But played a crucial role in maintaining the pressure.
Gurvinder Singh: He has been always there for Kerala at the defence and played a vital role in keeping the goal difference down.
HERO OF THE MATCH:
 Alexandros Tzorvas