February 12, 2015
MSG-Messenger of God Review and Rating and public talk
MSG-Messenger of God Review,Rating and public talk:
After a few hiccups and the objections raised by the censor board, MSG movie: Messenger of God was finally released today. The film revolves around the idea of eliminating social evils such as alcoholism, drug addiction and other problems faced by young people and enhance the life and message of Gurmeet Ram Rahim Singh Ji Insan. This is an unconventional film, which incorporates a number of elements such as action, drama and a subtle message, presented by none other than the spiritual guru himself. The film is directed by Saint Gurmeet Ram Rahim Singh Ji Insan Insan with Jeetu Arora, everything is produced by Dera Sachcha trust under the banner of Hakkikat Entertainment Pvt. Ltd.
The film's plot is simple and straightforward, which is packed with all the elements typical Bollywood films encompass. These include, action, suspense, stunts and drama, which is directed by none other than the guru himself. The plot has the same Guru Ji play its own character of a spiritual leader, who has a huge fan following. While dealing with social ills of the questions, the challenge to reduce social ills such as discrimination and equality of drugs, which seems to be endemic in society. People against the mission of Guru Ji unite and conspire to kill this man. So you have all the elements that any typical Bollywood masala movie would.
To judge the performance of Guru ji a formal criterion reviews found in Bollywood would be a difficult task. However, in terms of performance, this man is far from being a competent actor, since the film is a mix of concerts recorded live with a couple of sequences that carry the action and some of the stunts in the film. The film has seven songs which transmits the message of the spiritual leader. While talking about the location and other technical aspects of the film, all these elements seem. You can find amazing and picturesque places in which the Guru is considered telling his message to the people. The sets used in the film are larger than life. In other words, it is a mind blowing fabulous complete artist with a single message, life will switch when you live right. Music and other technical aspects such as editing, screenplay and dialogues, everything seems above average.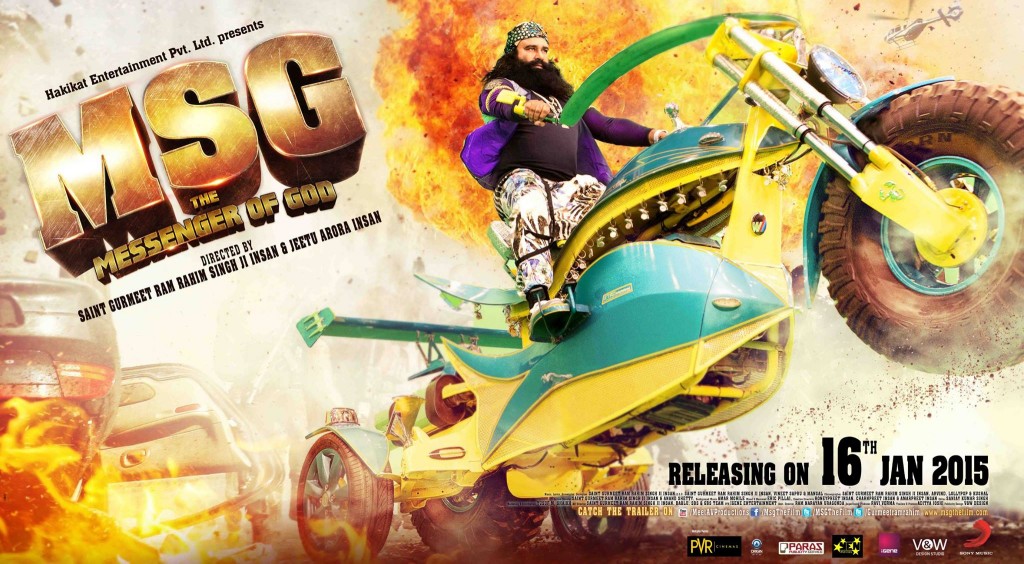 The Messenger of God msg- movie is a film with a social message of a good life and right just to make this world a place worthy of living. Since the trailer of the film was released, the film was a constant buzz with an overwhelming response. It falls under unconventional films, talking about the message to change society and make free social ills such as alcoholism, drug abuse, and discrimination between the sexes. To judge the film on the basis of performance and conventional measure becomes difficult. Hence the note is given purely in the context of a message it has.
MSG-Messenger of God Trailer:
MSG-Messenger of God Cast and Crew:
Artists (CAST):Gurmeet Ram Rahim Singh Ji Insan, Daniel Kaleb, Jay Singh Rajpoot, Jayshree Soni, Semen Olexandra, Flora Saini, Gaurav Gera
Director: Gurmeet Ram Rahim Singh Ji Insan
Story Writer: Gurmeet Ram Rahim Singh Ji Insan
Release date: On February 13, 2015
Language: Hindi
Genre: drama
Production Company: Hakikat Enterainment Pvt. LTD.
Music Director: Gurmeet Ram Rahim Singh Ji Insan
Publisher: Sanjay Kumar Singh
Designer Advertising: V & W Design Studio
Director of photography: Mangal Singh Jagtar
Messenger of God Movie Review:
Coming Soon………
Messenger of God Movie Rating:
Coming Soon………
Messenger of God Movie Public Talk:
Coming Soon………
Verdict:
Coming Soon………
Please Stay Tuned to our updates…….
About Author
Siri