Man recovering from Ebola quarantined at Delhi airport
Man with Ebola from Liberia detained at Delhi Airport
The India government has been very quick to dismiss the threat of Ebola after one man was detected positive for the deadly virus in the country's capital Delhi. A 26 year-old man who was arrived from Liberia at New Delhi airport earlier this month, was found to have recovered from deadly Ebola infection but contained traces of the virus in his semen which feared whole country. As a measure of precaution, which is definitely needed, that man has been isolated. The man was hospitalized in Liberia in September for this deadly virus Ebola.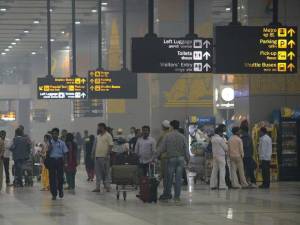 "At present, this person is not having any symptoms of the disease as per results. However, he would be kept under isolation in the special health facility of Delhi Airport Health Organization for safety measure, till the time his body fluids test negative for virus and he is said medically fit to be discharged by doctors," Indian authorities have said.
The news of the virus on Indian soil scared people, which the government ought to be calm quickly. The Times of India reported that hospitals designated by the government for Ebola treatment do not have personnel protective equipment, this scares people. For our population in India, strict screening measures at airports and ports are required to prevent an epidemic to occur. Facilities like thermal scanners were required for effective screening are not available at most Indian airports people say What Modi doing in foreign.
Ebola found at Delhi , Government detained a man
The health minister J P Nanda however managed to maintain that the country's health infrastructure is well-prepared. "Due to its extra caution only, the Health Ministry tested body fluids of the man even after his blood tested negative for Ebola virus. I want to say that the situation is under complete control. We have almost similar arrangements at 24 airports all over the country," Nanada said.
The Ebola outbreak which began early in this year, has so far killed more than 5,400 people which is devastating and has affecting more than twice the number of people in African countries. The virus moved out of West African, causing infections of healthcare workers in the US also. But there are survivors in health workers who got affected by Ebola in US. And Bill Gates software gaint well known for his charity is also concentrating on this issue.
A Russian company preparing vaccine, whole world is waiting for it. For this case they were doing trials ignoring some the standard procedures. To release it as early as possible. But its going to release only in 2016. As per studies it has worked in rats.