Maha Shivaratri Wishes and Quotes in English
Maha Shivaratri Wishes and Quotes  in English
Maha Shivaratri Wishes in English
1) May Lord Shiva shower his
Benign blessings on
You and your family.
May happiness and peace
Surround you with his eternal
Love and vigor.
HappyShivratri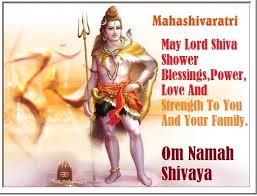 2) Happy Shivaratri to all. Bhagwan Bholenath,
I pray to you for everyone in this world.
Please give happiness to everyone,
Peace and lots of smiles.
It is my prayer per today.
Om Namah Shivaaye!!
3) Jai Shiv Omkara Har Shiv Omkara,
Brahma Vishnu Sadashiv Arddhagni Dhara,
Om Hara hara Mahaadevaa …
May the Lord Shiva bless u.
4) On the auspicious occasion of Mahashivaratri, greet your loved ones by sending blessings and good wishes online! Just send in fresh Shivaratri messages for your loved ones.
Read more of Maha Shivaratri Wishes and Quotes  in English
5) On this happy occasion blessings of Shiva Shanker be with you all. May his divine
attributes and merciful glorious remind us of   our own abilities and strive us to rise to heights.
Happy Shiva Ratri
6) Shivratri is a Platonic festival for all Shivbhakts. This is the most memorable day of my life. I have too much faith on Lord Shiva. When I am in distress, I always remember my Shiva God and my troubles will go. This day is best to meet Lord Shiva.
7) That Lord Shiva shower blessings on all and give power and strength to everyone facing difficulties in life there.