Movie name
:Loukyam
Rating:3/5
Banner: Bhavya creations
cast & crew:
Gopi chand as hero
Rakul preet as heroine
Directed by sriwass
produced by V. Anand prasad
Edited by S.R.Shekar
Screenplay by Kona Venkat, Gopimohan
Music by Anoop Rubens
Language:Telugu
charecters that which include in movie are Brahmanandam, Chandra Mohan, Sampath, Prudvi and Other actors.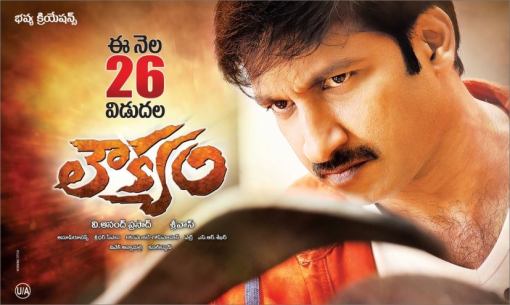 Loukyam Movie Review:
Loukyam is Telugu movie which was directed by Gopichand,Rakul preet lead roles in this Movie.This movie was written by sridhar and produced by V.Anand prasad.This movie said to be comedy entertainer.This is the one of different role for Gopichand as compare to different movies.Recently Last Movie for Gopi chand is Sahasam is one of the blockbuster for him. For the first time Anoop Rubens given music to Gopi chand.Recently tha audio was launched audio was having good respons from the public.
Hamsa nandini acted in a main role in this movie.
 Story:
The film starts off in Warangal, where the local don Babji's (Sampath Raj) sister is kidnapped on the day of her wedding by Venky or Venkateswarulu(Gopichand). The hunt for Venky begins and the story then shifts to Hyderabad. Here, Venky meets pretty Chandrakala (Rakul Preet Singh) who is a nightmare of sorts in her college. Venky loses his heart the moment he sets his eyes on her and woos her till she falls for him. By then, Venky finds out that she is the sister of dreaded Satya (Rahul Dev). Meanwhile, Babji comes to Hyderabad searching for his sister and it turns out that Chandrakala is also his younger sister. From here, the story shifts back to Warangal and tracks how Venky wins over Babji and gets Chandrakala.This movie is one of the block buster for Gopichand and movie team
Highlights in movie:
Gopichand acting and Rakul preet acting is superb and Brahmanandam is the highlight of this movie as usual his comedy continues and this movie is comedy entertainer.Its one of the superb movie compare to recently released movies