Kakki Sattai/Kaaki Sattai Movie 1st Day Box Office Collections Report
Kakki Sattai/Kaaki Sattai Movie 1st Day Box Office Collections Report
Movie Name: Kaaki Sattai
Cast: Siva Karthikeyan, Sri Divya, Prabhu
Director: R.S.Durai Senthilkumar
Producers: Dhanush and P.Madhan
Written By: Pattukkottai Prabakar, R. S. Durai Senthilkumar
Music Director: Anirudh Ravichander
Cinematography: M.Sukumar
Editing: Noor Azwan
Production Company: Wunderbar Films
Distribution Company: Escape Artists Motion Pictures
CBFC Rating: U
Movie Release Date: 27th February, 2015
Runtime: 157 Minutes
Genre: Action, Comedy.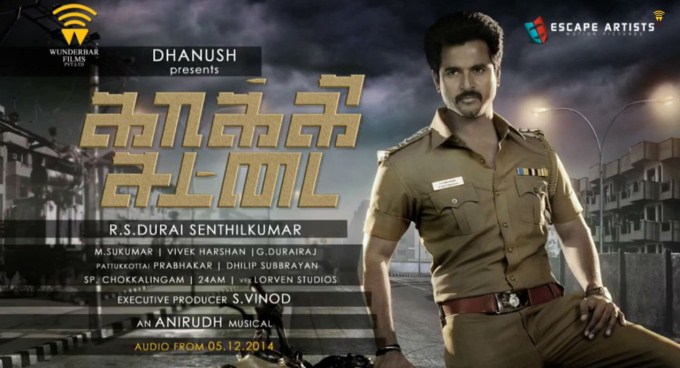 Kakki Sattai 1st Day Box Office Collections:
Kakki Sattai leading role as Siva Karthikeyan and Sri Divya has been released on 27th feb all over the world. This movie is receiving mixed reports from the all the classes of audience. Everyone is expected the good commercial movie with many entertaining elements from hero Siva Karthikeyan. Siva Karthikeyan succeeded by impressing the audience with his comedy and action episodes. R.S.Durai Senthil kumar directed this movie. Siva karthikeyan and Durai Senthil working after the Ethir Neechal Project under the banner of Escape artist motion pictures and this movie is  produced by Dhanush and P.Madhan. Kolaveri boy young music director Anirudh Ravichander gave music for this film. Anirudh ravichander music added life to the movie Kaaki Sattai. He delivered massive Back ground score throughout thiis movie and even rain fight mass BGM 's added more weight and elevation to fight sequence. Cinematography by M.Sukumar was good while editing by Noor Azwan was very poor. In his film VFX effects didn't done well and its failed to reach the better output. Kaaki sattai can be done in a better way to get good taste at the end. Siva Karthikeyan, Dhanush, Anirudh and Durai Senthil back to back combo after the movie ethir neechal. Ethir Neechal received Best crew award from the Vijay awards. Let us see this team again impressed the audience or not?
Kakki Sattai has been released around 800 Screens worldwide today and 350 Screens from the Tamilnadu alone. Many of the Screens are added with Kaaki sattai by removing Yennai Arindhaal. Its been huge release for the star like Siva Karthikeyan. Siva is having good market not only in the Tamilnadu but also from the overseas like US market. Maan Karate tops the US box office chart in the opening weekend. Kakki Sattai will get decent opening from the box office in all the areas.
Expected 1st Day Box Office Collections were around 4-6 Crores Approx.