Bangalore:, Tamil Nadu
Chief Minister J Jayalalithaa
in a disproportionate assets case is held guilty and sentenced to four years. Also now have to resign from the post of Chief Minister Jayalalithaa. Jayalalithaa will be taken straight to jail from court. They have to appeal to the High Court for relief from punishment. Jayalalithaa not contesting 10 years after the sentence added. ruling AIADMK supporters are shell-shocked after the verdict.Women were seen weeping weeping outside Jayalalithaa's residence. Meanwhile, angry AIADMK supporters have started a commotion. DMK chief Karunanidhi is reported to be stoned at home. Given the Court's ruling against Jayalalitha in Tamil Nadu and Bangalore Special security arrangements have been made. Jayalalithaa police suspected to be rabid supporters, given the increased security of Tamil Nadu's DMK leaders.Jayalalithaa gets four-year prison term. Jayalalithaa fined 100 crores and she applied for the bail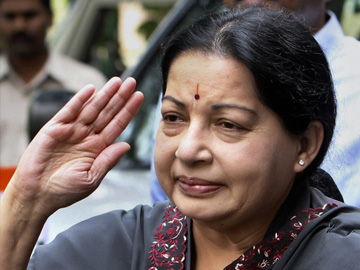 Old Case:
Jayalalithaa disproportionate assets case over 18 years ago was recorded in the Afaair.
The case was then entered when he first became chief minister.Now he is the Chief Minister of Tamil Nadu for the third time.
She had reached Bangalore by a special flight. Bangalore heavy security arrangements were made in a special court.
The Supreme Court on behalf of the special court in Bangalore for a fair hearing, was formed in November 2003.It had to be decided whether the Jayalalithaa during 1991-96 from Rs 66.6 crore assets was higher than their known sources of income?
She once before for corruption have been forced resignation.
There are 37 members of her party AIADMK in the Lok Sabha.