Isai Movie Review and Rating Public Talk:
Isai Tamil movie made appearance on 30th January 2015 in theatres. The movie starring S. J. Surya and Savithri directed by S. J. Surya.
Isai Movie Cast & Crew:
Director: S. J. Suraya
Producer: S. Subbiah, Victor Raj Pandian
Writer: S. J. Surya
Cast: S. J. Surya, Savithri
Music Director: S. J. Surya
Cinematography: Soundararajan
Editor: K. M. Riyas
Production Company: SS Productions
Distributor: ASA Multimedia
Language: Tamil
Release Date: January 30th 2015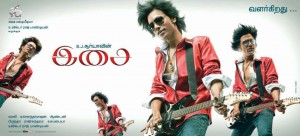 The movie was planned about many years but however due many hurdles the film didn't appear in screens. Sulgana Panigrahi and S. J. Surya are in pivotal roles. Sulgana Panigrahi is making her debut as Savithri.
After almost a decade S. J. Surya is coming with multi talent show in this movie. In Tamil industry Surya is one of rare artists who can play many roles under a film project. Surya announced this project in 2004 but it has taken many years to hit the screens.
But after many disappointments Surya fixed heroine Sulgana Panigrahi acted in TV serials and then event one Hindi movie and Marathi movie. After many hurdles with many artists and even from music side with Rahman. This all issues lead him to play multiple jobs in one project as Director, Hero and Music director.
S. Subbiah and Victor Raj Pandian producing this project. Finally it is having some expectations because of one and only S. J. Surya re-entry after many years with many responsibilities in single film.
Isai Movie Review:
Basic Plot: 
It is Tamil music thriller movie starring S. J. Surya and debutante Savithri ( Sulgana Panigrahi). S. J. Surya plays many roles for this project.
Analysis:
The movie is long-pending project of S. J. Surya finally gave an impeccable performance in this project. After ten years S. J. Surya again proved that he can still manage many roles for a project.
Especially Sathyaraj acting was a very advantage for the movie. The Romantic scenes between lead roles are good and Surya and Savithri chemistry seems perfect on screen.
But S. J. Surya came with an expected story with a small twist. And as a music director he composed an mellifluous music to listeners.
Plus Points: 
S. J. Surya Performance
Music and Background score of this movie
1st half of movie
Sathyaraj acting
Minus Points:
Routine Story
Screenplay
Run Time of more than 3 hours
Isai Movie Rating:
2.75/5
Isai Movie Public Talk:
This could be long waiting day for S. J. Surya fans as he gave wonderful feast with his film. Many believed that this is best film by S. J. Surya with a re-entry.
Verdict:
If you like to watch S. J. Surya performance and music then i will prefer this movie to watch.