INDIA THRASH SRILANKA IN THE FIRST ODI
INDIA THRASH SRILANKA IN THE FIRST ODI:
India
crushed
Srilanka
in the first encounter of the five match series.
India
were dominant from the start as the opening partnership was a solid 231 which had centuries from both openers. Srilanka never caused any problems for the home side as their bowling and fielding showed that they lacked match practice.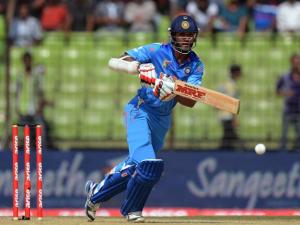 Srilankan bowlers were way out of target which helped the openers in India to capitalize and build from there on. Lankans were not so good in the field as they were sloppy and missed crucial catches. Indians were on the move as they carried momentum from the recently concluded WI series.
IMPRESSIVE START:
Indians made a mockery of the Srilankan attack and most importantly it wasS.DHAWAN who came good and he was supported by A.Rahane. These two openers went on to make a huge partnership of 231 which included the class of Rahane and the power of Dhawan. This start gave India a good chance to play well and went on to make a huge total.
SRILANK'S LACK OF MATCH PRACTICE:
Before the series started the lankan  players  expressed dissatisfaction that  they didn't  have enough match practice that was really proved as they lost by a humongous margin of runs which is uncharacteristic of the Srilanka. Srilankan's never brought up any challenge as they were totally outplayed by the host's.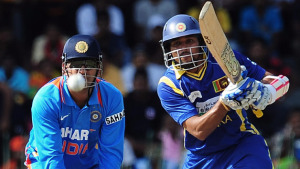 IMPORTANT MOMENTS:
RAHANE'S TON: Rahane impressed again as he scored a ton which displayed his class and composure he reached the milestone's with ease.
RAINAS'S RAIN: Raina took control of the match from the time he arrived and destructed the lankan attack with his power.
MAN OF THE MATCH:
AJINKYA RAHANE