INDIA TARGETS MOON AND SUN AFTER MARS
ISRO PLANNING TO LAUNCH SATELLITES TO STUDY MOON AND SUN
NEW DELHI: India concentrating on low budget missions to the moon and the sun after achieving first country in Asia to reach Mars mile stone, said K.S Radhakrishnan head of ISRO
India has been had a great time with the success of mangalyan
Mangalyaan is planned to search for evidence of life on Mars. Lot of happiness of success coz India is the only country to reach mars on first attempt.
Now at present ISRO planning to launch 2 projects. One is for moon and other for sun. the aim is  three years from now, to land Indian rover and Indian lander on moon.
He said that they had a programme to study the sun by putting a satellite into the sun-earth lagrandian point.
China completed it s first return mission to the moon. He said we don't race with any country, we have our own priorities. He also said India had great 0.targets in $300 billion space market.
The Mars mission had highlighted the India's launch vehicle PSLV. Till now 40 satellites of other countries, 19 countries have used PSLV.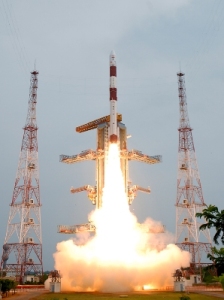 And our other launching vehicle GSLV also can be used for launching the satellites of higher weights is also getting high demands as it is for PSLV.