Hyderabad Metro Route Map, Price, Timings
Hyderabad Metro Rail is indeed a major venture of the Government of Telangana. The Hyd Metro project is estimated to cost ₹14, 132 crores. The length of the proposed Metro rail project is 72 KM, with stations located at every kilometer.
The Hyderabad Metro has a frequency of 4 to 5 minutes during – peak hours.
Hyderabad city is one of the fastest developing metros in India. The core area of the city covers about 625 sq. km (under the jurisdiction of the GHMC.
Hyderabad Metro Train starts from 6 AM and runs till 11 PM.
Hyderabad Metro Interchange Stations: At each interchange junction, you can plan your journey.
Corridor 1: Miyapur – L.B.Nagar (29Km)

Corridor 2: Jubliee Bus Stand – Falaknuma (15Km)

Corridor 3: Nagole – Raidurg (28 Km)

CLICK HERE TO SEE THE ROUTE MAP CLEAR: HYDERABAD METRO TRAIN ROUTE MAP
Hyderabad Metro Route Map LB Nagar to Miyapur
Corridor-I (Red Line):
Miyapur to L B Nagar – 27 Stations
The Red Line of the Hyderabad Metro is a 29.2-km corridor, running between Miyapur and LB Nagar. It has 27 stations, Miyapur, JNTU College, KPHB Colony, Kukatpally Balanagar, Moosapet, Bharat Nagar, Erragadda, ESI Hospital,
S R Nagar, Ameerpet, Punjagutta, Irrum Manzil, Khairatabad Lakdikapul, Assembly, Nampally, Gandhi Bhavan, Osmania Medical College, MG Bus station, Malakpet, New Market, Musarambagh Dilsukhnagar, Chaitanyapuri, Victoria Memorial and L B Nagar.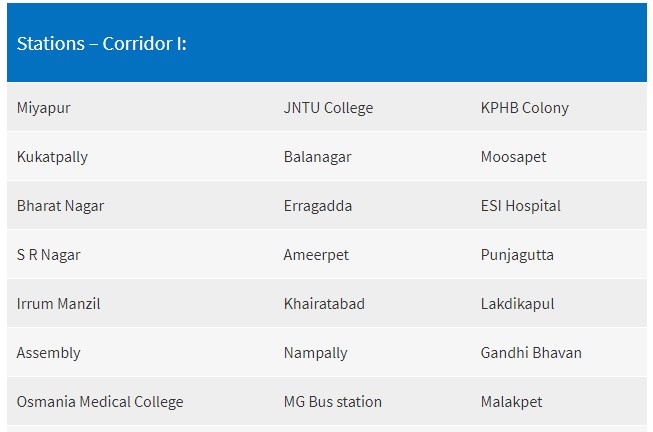 It has now become the second longest Metro network in India after the Delhi Metro. The Ameerpet station and MG Bus station of this corridor are interchanging junctions providing access to the Blue Line and the Green Line, respectively.
Hyderabad Metro Route Map Nagole to Shilparamam
Corridor-II (Blue Line): Nagole to Shilparamam – 23 Stations
Running between Nagole and Raidurg, the Blue Line of the Hyderabad Metro is a 27-km two-phased corridor, with 23 stations. The stations on this stretch include Nagole, Uppal, Survey of India, NGRI, Habsiguda, Tarnaka, Mettuguda, Secunderabad, Parade Grounds, Paradise, Rasool Pura, Prakash Nagar, Begumpet, Ameerpet, Madhura Nagar, Yusuf Guda, Road No 5 Jubilee Hills, Jubilee Hills Check Post,Pedamma Temple, Madhapur, Durgam Chervu, HITEC City and Shilparamam.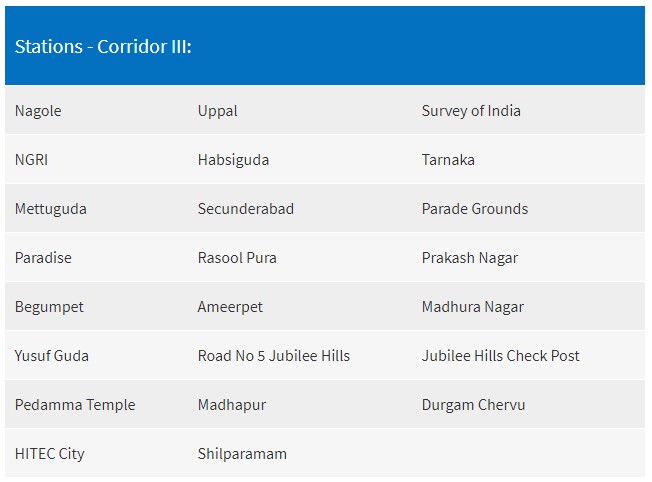 Parade Grounds and Ameerpet stations will provide interchange options to access the Green and the Red Line, respectively. 
Hyderabad Metro Route Map JBS to Falaknuma
Corridor-III (Green Line): JBS to Falaknuma – 16 Stations
The 15-km stretch will run between JBS and Faluknuma with over 16 stations. 
These include JBS, Parade Grounds, Secunderabad, Gandhi Hospital, Musheerabad, RTC Cross Roads, Chikkadpally, Narayanguda, Sultan Bazar, M G Bus Station, Salarjung Museum Charminar, Shalibanda, Shamsher Gunj, Jungametta, and Falaknuma.
Hyderabad metro route map JBS to Falaknuma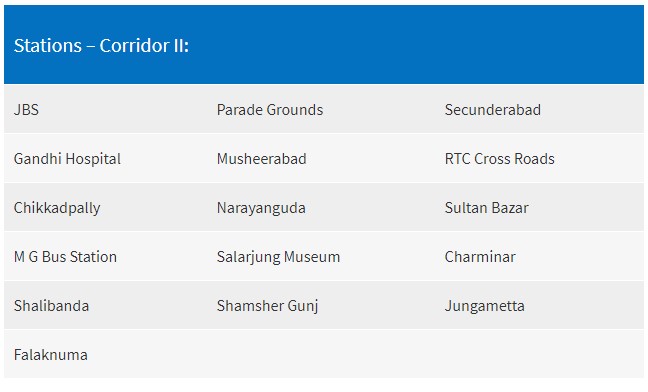 This route not yet started it is expected to become operational by the end of 2020. Planned in two phases — a 9.66-km stretch from JBS to MGBS and a 5.36-km stretch from MGBS to Falaknuma — the route is under construction.
Hyderabad Metro Fare Charge :
The fare is Rs 10 for 2 km, Rs 15 for 4 km and steadily increases to Rs 55 for up to 26 kms. The fare for a distance more than 26 km has been fixed at Rs 60.
Here is the price list for Hyderabad Metro stations. The fares for the Hyderabad Metro Rail's Red Line, which will be operated from Miyapur to LB Nagar via the Ameerpet Interchange station.
Hyderabad Metro Charge from Miyapur to LB Nagar
• Miyapur to JNTU College: Rs.10
• Miyapur to KPHB: Rs.15
• Miyapur to Kukatpally: Rs.25
• Miyapur to Bharat Nagar: Rs.30
• Miyapur to ESI Hospital: Rs.35
• Miyapur to Errammanzil: Rs.40
• Miyapur to Nampally: Rs.45
• Miyapur to New Market: Rs.50
• Miyapur to Chaitanyapuri: Rs.55
• Miyapur to LB Nagar: Rs.60
Hyderabad Metro Charge from Miyapur to LB Nagar
Hyderabad Metro Charge from Nagol to Secundrabad
Hyderabad Metro Charge from Ameerpet to Hitech City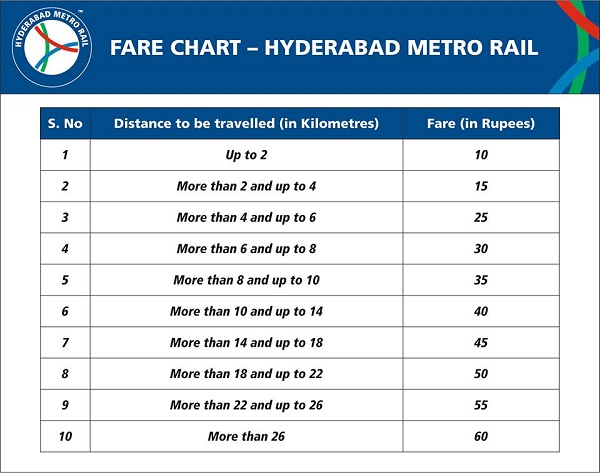 Here is the full list of Hyderabad Metro charges list: Hyd Metro Fare.
I wish you a happy journey with Hyderabad Metro. If you are looking for more information please comment below, we will help you.