How to pay Telangana Traffic E-Challan Online
India is headed towards becoming a cashless economy. Every state government providing access to pay challan online for a traffic violation. To pay the Hyderabad traffic challan online visit the e-challan Hyderabad official website. Every state in India has a separate website where people can go and pay their traffic challans. You will have to visit your respective state's transport official website to pay a traffic E challan online.
 Follow traffic rules all the time and ensure you are not a threat to others safety while on the road. Your entire family depends on you.
Steps to pay traffic challan online
To pay traffic challan online you must visit your City's official transport website or if they have any mobile app for e challan you can download it and pay challan online. 
For example: For Hyderabad the official website where you can pay your challans online.
https://echallan.tspolice.gov.in/publicview/
The transport department will have a separate section dedicated to paying traffic violation fines.
You will be entitled to choose if you want to pay traffic violations like signal jumping, drunk and drive, spot fines, parking charges or any other charges.
Choose on the relevant option from the dropdown menu and you will be asked to enter specific details depending on the type of traffic violation.
Generally, you will be asked to enter your vehicle registration number(Which is VIN), old or new registration number, or your parking violation tag number.
Enter the details, you will get all the traffic violation challan list. check the amount and details.
How to check which location your vehicle got fine: 
If you have violated any of the traffic rules or if you are not sure about how much you have to pay for it, you can get all the details from the state transport website.
Let's take an example: If you want to pay Telangana, Hyderabad traffic challan online follow the procedure.
Go to This Link:  https://echallan.tspolice.gov.in/publicview/
Enter your VIN o Vehicle registration number, and enter captcha code and verify it.

you will get traffic violation place and date along with the exact time and also what type of traffic violation you made.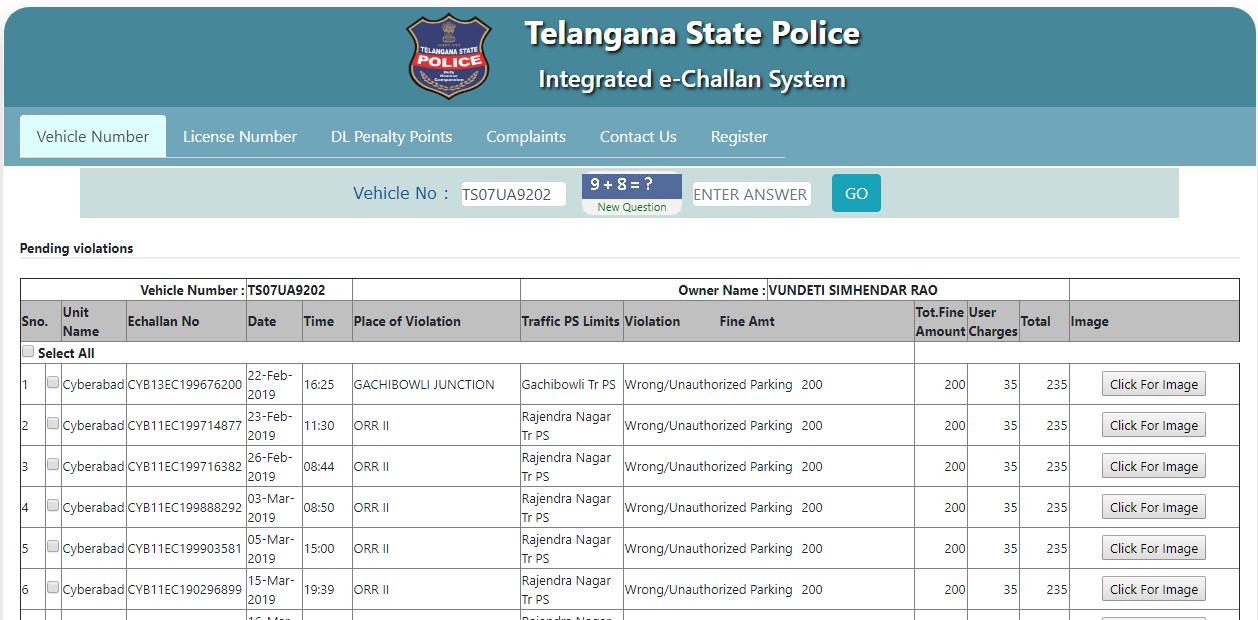 After entering all the required details, you will be redirected to a secure payment gateway. Choose your payment methods like credit card or debit card (Master or Visa Card).

Enter the Captcha in the given space and before clicking on "Submit".

You will be redirected to a safe page to make your payment.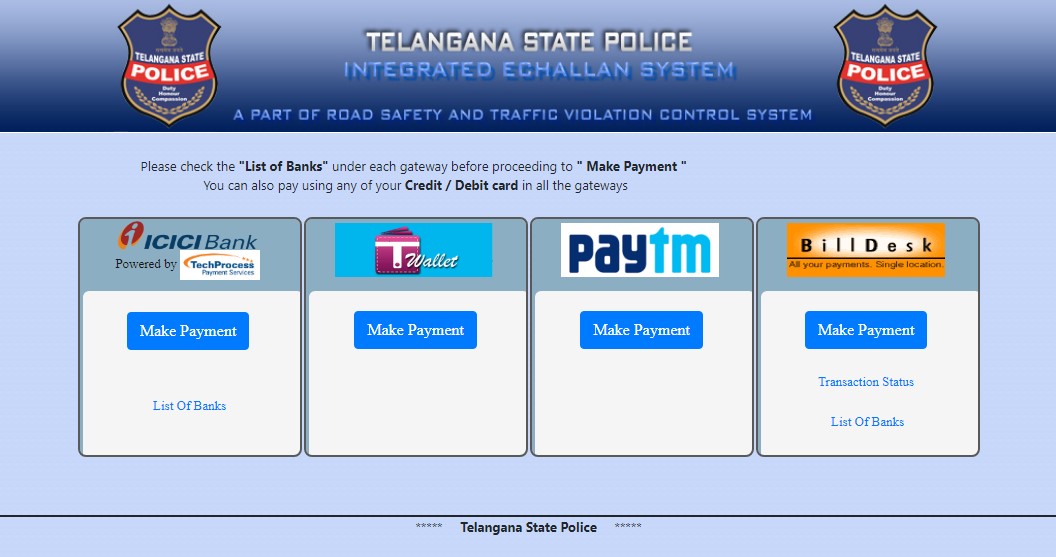 Once your payment is done you will get all traffic challan payment details.
How To Pay TS Traffic Challan Online Using Paytm
As the country is headed towards becoming a cashless economy, many online payment wallets emerged like Paytm, PhonePay, Amazon Pay, Google Pay(Tez), Freecharge etc.
Paytm is one of the leading Indian e-payment companies in our country. Since its introduction, the way people make their payment has changed. Paytm is Indias largest mobile wallet company which provides safer and easier online payment options. With cashless transactions becoming a new trend in India, the traffic police in Telangana also adopted the technology to collect fines from the defaulters.
 If you happen to be penalized by Telangana traffic violation rule for accidentally or knowingly not wearing a seat belt or helmet, jumping the signal, over speeding, driving without a license or violating any other kind of traffic rules, you are entitled to pay traffic violation fee. 
We will help you with how to pay Telangana traffic challan fee online using Paytm. Avail the cashless payment option with Paytm and get exciting cashback offers also. Paytm provides a hasslefree payment option to pay traffic challan online. Make use of this e-challan payment facility at Paytm and pay for the challans in just a few easy & quick steps. 
Make your challan payments on the go by simply making use of the Paytm App or logging into Paytm, enter vehicle details and go ahead with the payment after cross-checking your details.
 Pay TS traffic E-challan payment online using Paytm
A new feature has been added to this app which allows users to pay their traffic challans online. Paytm allows you to pay Telangana traffic E-challan online. We will provide step by step procedure on how to pay TS traffic E-challan payment online using Paytm.
Steps to Make Telangana Challan Payment with Paytm
Visit Paytm.com or download the app from the Play Store or AppStore.

Log in with your user mobile number or email id.

In the menu section, you will be able to see the "Pay Traffic Challan" option.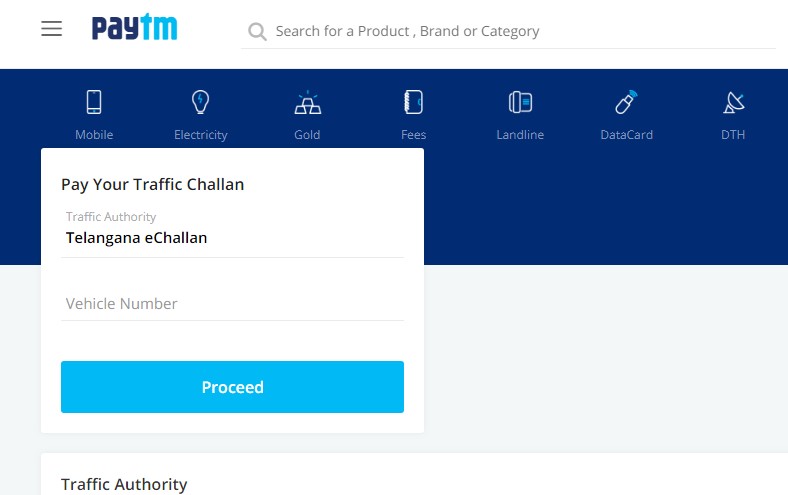 Select your city name.

Enter the traffic challan or your vehicle number.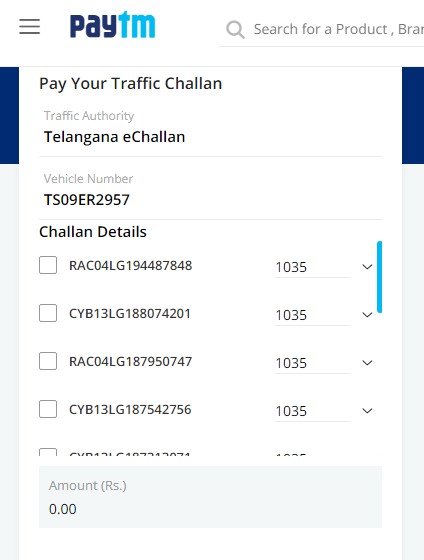 before going further check your vehicle details and challan details
Choose your payment method. 

Select which challan you want to pay and check the information. and proceed to the Paytm payment gateway.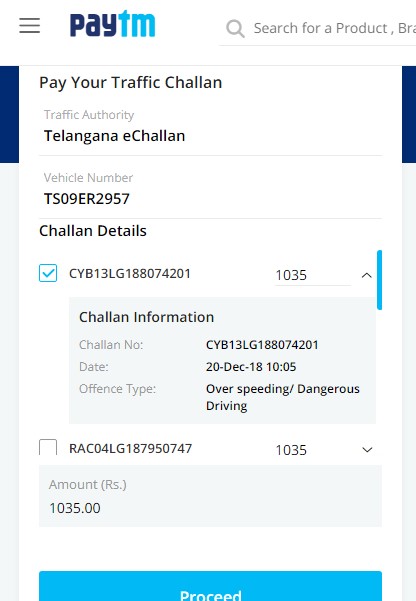 You can make the payment using your debit/ credit card, net banking, or your Paytm wallet balance.
Once you choose the payment method, you will be redirected to a safe and secure page where you can process the payment.

Once you have made the payment, you will receive an email and SMS to your registered email ID and phone number instantly.
How To Pay Telangana(Hyderabad) Traffic Challan Offline
You can pay your traffic challan at any traffic police station in your city. If you have received a letter for traffic violation (signal jumping, driving without helmet or seatbelt, or driving without driving license, etc) carry that with you and visit the nearest traffic police station in your city.
If you are caught for any traffic violation, you can request the Traffic Inspector to check for previous dues and pay all the traffic violation fees. The traffic police maintain all the records of a traffic violation, they can trace your previous fine details.
It is not advisable to have pending traffic violation fines. As for the new traffic violation Act if you have pending challans more than permissible limit your driving license will be blocked. If you have any traffic fines and penalties to be paid, please go ahead and pay it today and drive safe.
Follow the traffic rules to make your journey comfortable.
If you have any doubts regarding how to pay the Telangana traffic challan online using Paytm, drop us a message in the comment section we will get back to you soon with a possible solution. If you find this article useful share it with others so that they can lean and pay traffic challan online easily. thank you.