Government's Fresh Bid to End Parliament Deadlock, All-Party Meet on Monday
Government's Fresh Bid to End Parliament Deadlock, All-Party Meet on Monday:
With half of the Monsoon season was virtually completed, the government will make a fresh bid to end the two-week-long deadlock in Parliament with an all-party meeting on Monday.While the BJP-led coalition is reaching out to Opposition, the Congress is continuing its attack on the government regarding the Lalit Modi and Vyapam controversies and it is likely to recollected its strategy on Monday at a meeting of the Congress Parliamentary Party (CPP), which will be addressed by party chief Sonia Gandhi.The CPP general body meeting is being held hours before the all-party meet at a time when the government isn't giving any indication of accepting their demand for the resignations of Sushma Swaraj, Vasundhara Raje and Shivraj Singh Chouhan.While the Opposition including the Congress and the Left parties have taken a line of "no resignation, no discussion", BJP leaders and ministers are making it loud and clear that there will be no resignation and the government is not going to "oblige" the Opposition.The government has offered a reply by External Affairs Minister Sushma Swaraj in Parliament and is ready for a discussion on the Lalit Modi controversy, but dubbed the Vyapam scandal as a state issue. With Opposition not relenting, the ministers have repeatedly accused them of "running away" from a debate.The main opposition party has demanded that Mrs Swaraj and Rajasthan Chief Minister Vasundhara Raje resign for their alleged role in the Lalit Modi controversy, and Madhya Pradesh Chief Minister Shivraj Singh Chouhan quit over the Vyapam scandal.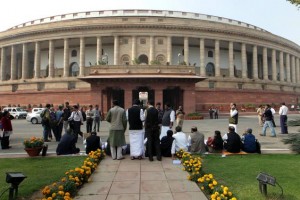 All-Party Meet is based on Action against three leaders:
Leader of the Opposition in Rajya Sabha Ghulam Nabi Azad has made it clear that the all-party meeting should be based on what action is taken against Mrs Swaraj, Vasundhara Raje and Shivraj Chouhan."Sushma Swaraj,Vasundhara Raje,Shivraj Singh Chouhan's fate will be on the agenda for the discussions," Mr Azad has said.Congress has also made it clear that its participation in an all-party meeting to break the deadlock depended on a "tangible" proposal from the Prime Minister on the Opposition's demands.At the CPP meeting, the Congress President is expected to make the party's stand on these issues all the more clear and also hit out at the government on farmers' issues.This will be the first meeting of the CPP general body in the Monsoon session, which has seen an aggressive Congress.CPI(M) has also accused the BJP-led government for trying to escape from accountability behind the veil of conducting a "debate for debate's sake".