Gour Hari Dastaan Movie Review,Rating,Public Talk and Critics Review
Gour Hari Dastaan Movie Review and Rating:
The Freedom File is the kind of film that one would have gladly fallen in love with had it been more engaging.Count the film's inherent strengths: its story is drawn from real life, its protagonist is a unique figure on a remarkable quest, and his plight lays bare the mess we have ended up in as a nation over the 60-odd years that India has been independent.Why, then, is Gour Hari Dastaan such a crashing bore? There are many reasons, but only two should suffice.One, lead actor Vinay Pathak is clearly miscast. And two, the pace of the narrative is painfully ponderous.Pathak delivers his lines in a dispiritingly affected, self-conscious manner, as if his very life depended on not expending a single breath more than is absolutely essential to get the words out through his lips.The actor also fails to alter his gait at the different points in the hero's life: 1970s, 1980s, the noughties.It is easy to accept that a septuagenarian might amble rather than walk like an athlete, but back in the 1970s Gour Hari Das was many years away from being gripped by the physical sloth associated with old age.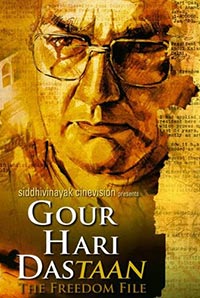 Gour Hari Dastaan Movie Casting and Crew
Gour Hari Dastaan, directed by Ananth Narayan Mahadevan, opens with an Andre Gide quote: "To know how to free oneself is nothing; the arduous thing is to know what to do with one's freedom."That surely isn't a reference to Gour Hari Das, who joined the struggle for independence when he was only 14, inspired by a call from Mahatma Gandhi.The former Vanar Sena member knows exactly what to do with his freedom – continue to fight through thick and thin for his place in the sun.Gandhi is inevitably invoked on more than one occasion. In one soft-focus scene, Gour Hari Das has a conversation with the Mahatma.This exchange is meant to clarify that the protagonist isn't fighting for an enhanced pension. It is only the truth that he is interested in.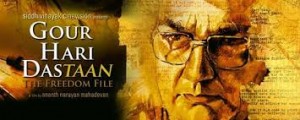 Gour Hari Dastaan Movie Story Synopsis:
Gour Hari Dastaan offers a rather simplistic take on a grindingly bureaucratic system that the man is grappling with, with several characters, Gour Hari Das included, admitting that we were probably better off in some respects under the British.The societal and governmental apathy and scepticism are condensed into the character of a man (Vipin Sharma) who occupies a flat in Gour Hari Das's building and is constantly out to discredit him.By far the least convincing of all the characters in Gour Hari Dastaan is Rajiv Singhal (Ranvir Shorey), a muddled journalist who is on the trail of the Gour Hari Das story against the counsel of his profit-oriented editor (Rahul Vohra).This hard-drinking guy is in a bad marriage and has a huge issue with feminists. He even suggests that all feminists should be eliminated from the face of the earthHe is a serious nut case who is in need of some help himself.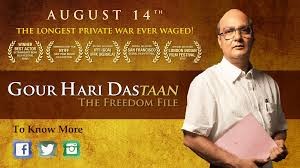 He gets it from a colleague (Tannishtha Chatterjee), another of the several roles the film leaves in a limbo.One such minor sub plot involves an MLA's security guard (Bharat Dabholkar), who collects thousands cotton seeds, takes them to Gour Hari Das' home and requests the gentleman to stitch a short for his school-going son.The story takes several other detours in the form of Gour Hari Das' relationship with his wife (Konkona Sensharma) and his guitar-strumming son who flies away to the US in search of a better life.With so much happening around him that is beyond his control, the storytelling would have done with a dose of energy.At no point does the film fully convey the deep sense of frustration and helplessness that Gour Hari Das would have felt in the course of his 32-year struggle to prove that he was indeed a freedom fighter.The dreariness of Gour Hari Dastaan is allayed somewhat by an array of cameos by fine character actors – Saurabh Shukla, Rajit Kapoor, Vikram Gokhale and Murali Sharma, among others.Owing to its undeniably relevant theme, Gour Hari Dastaan does have some archival value. If only it had more to offer, it would have come far closer to being the triumph that it – and its subject – deserved to be.