GILCHRIST BACKS DHONI FOR SERIES DOWN UNDER
AUSTRALIAN dashing opener Adam Gilchrist said that he didn't agree to the statement made by Ian Chappel on M.S.Dhoni  as he said the Indian skipper is the most important player in the middle order for India.  He also added that the cool and composure of Dhoni is totally laudable.
"I have been totally impressed with DHONI from the moment he led the side in 2007.His calmness is quite extraordinary. Although the recent results have not gone his way he is definitely a strong leader." he told the reporters.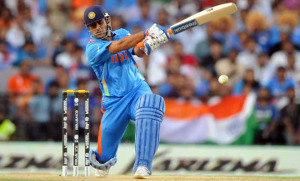 GILCHRIST HAILS DHONI WILL COME GOOD:
Dhoni is the captain who led India to attain all the ICC events and even led the side to be number 1 in all the three formats. He says with his calmness Dhoni can be a strong leader who is needed to guide India to retain WORLD CUP.
Gilchrist said it would be a tough series for India down under but he also suggests Aussies not to take Indian's lightly. Indians are down on confidence but he also feels that many youngsters in the team would have done their home work and will be ready to show their class and DHONI is the correct one to lead them.
India, Australia, England are struggling to make any impact abroad because of some unknown reasons although having a strong batting line up, He feels that India is very much capable of giving a tough fight.
Talking about the approaching World cup he said Australia also with the hosting nation will definitely have an upper hand. But, all the teams have equal opportunity to win the title of World champion.
Talking about the ICC attack on suspected actions, He said that there was a time when legends retired  this didn't effect the game in the same way WORLD CUP is the most interesting tournament no matter who will feature in the game and game will move on.