February 1, 2015
Gate Engineering Sciences XE 2015 Answer key Download
Gate Engineering Sciences XE 2015 Answer key Download: Graduate Aptitude Test for Engineering (GATE):
2015 online exam will be conducted on January 31, 1st, 7th & 8th February 2015. Graduate Aptitude Test examination is held for testing the comprehensive understanding of various undergraduate subjects in engineering and science. IIT Kanpur has successfully conducted Gate 2015 exam for Engineering Sciences (XE) on 31st January. All the candidates appeared in the exam are searching for Answer key & Review of the exam on the internet. The exam review & analysis will help the students who are going to write upcoming exams. Below we have provided the Answer key, Review & Analysis of 31st January Engineering Sciences (XE) Morning Session Paper. This answer key help you to check your answers.
Also See: Gate ECE Answer Key 2015 31st Jan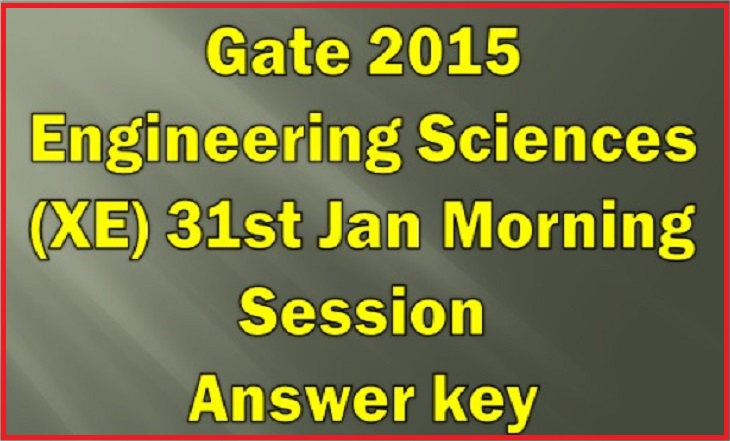 GATE 31st Jan Engineering Sciences (XE) Morning Session Answer Key 2015:
The GATE score of a candidate reflects the relative performance level of a candidate. The score is used for admissions to various post-graduate programmes (eg. M.E., M.Tech, direct Ph.D.) in Indian higher education institutes with financial assistance provided by MHRD and other Government agencies.  The score may also be used by Public sector units for employment screening purposes.
GATE is conducted jointly by the Indian Institute of Science and seven IITs (IIT Bombay, IIT Delhi, IIT Guwahati, IIT Kanpur, IIT Kharagpur, IIT Madras and IIT Roorkee) on behalf of the National Coordination Board – GATE, Department of Higher Education, Ministry of Human Resource Development (MHRD), Government of India. The candidates who have appeared for the Gate 2015 Engineering Sciences (XE) exam on 31st January can download Answer key from the link provided below.
Also See: Gate Mechanical Engineering Answer Key 31st Jan 2015
Gate 2015 Engineering Sciences (XE) 31st January Analysis & Review:
A candidate appearing in the XE paper has to answer the following
Section A – Engineering Mathematics (compulsory)
GA – General Aptitude (compulsory)
Any two of XE sections B to G
Section A: Engineering Mathematics
Section B: Fluid Mechanics
Section C: Materials Science
Section D: Solid Mechanics
Section E: Thermodynamics
Section F: Polymer Science and Engineering
Section G: Food Technology
The choice of two sections from B to G can be made during the examination after viewing the questions. Only two optional sections can be answered at a time. A candidate wishing to change midway of the examination to another optional section must first choose to deselect one of the previously chosen optional sections (B to G).
SECTIONS
SUBJECTS
Total Number of QUESTIONS
Number of 1 MARK QUESTIONS
Number of 2 MARKS QUESTIONS
TOTAL MARKS
Section 1
Engineering Mathematics
11
7
4
15
Section 2
General Aptitude
10
5
5
15
Section 3
Optional Subject 1
22
9
13
35
Optional Subject 2
22
9
13
35
Gate 2015 Engineering Sciences (XE) Cutoff Marks:
The GATE 2015 Cutoff for XE is the minimum score needed for the admissions to the Engineering PG courses in Engineering Sciences (XE). Candidates who score above the Engineering Sciences (XE) Cutoff for GATE 2015 will be called for counselling and admissions.
Engineering Sciences (XE) candidates appeared: 2532
Qualifying marks for General: 29.18
Qualifying marks for OBC: 26.26
Qualifying marks for SC/ST/PWD: 19.45
Gate 2015 Engineering Sciences (XE) Cutoff Marks will be updated soon. . . 
How to Download GATE 2015 Engineering Sciences (XE) Answer Key?
Candidates can download GATE 2015 Exam Solutions or GATE 2015 Engineering Sciences (XE) 31st Jan Morning Paper Answer key through the official website of IIT Kanpur. Candidates may also follow these steps:
Firstly, log on to the official website of IIT Kanpur
Now find the link of GATE Answer Key or Answer Sheet 2015.
Click on that link.
Now select your branch (Engineering Sciences XE).
Download the PDF file of GATE 2015 XE exam Answer key.
Now you can check your answers.
Please stay tuned our website for more information………………….