Gaddam Gang Movie Review and Rating Public Talk Rajashekar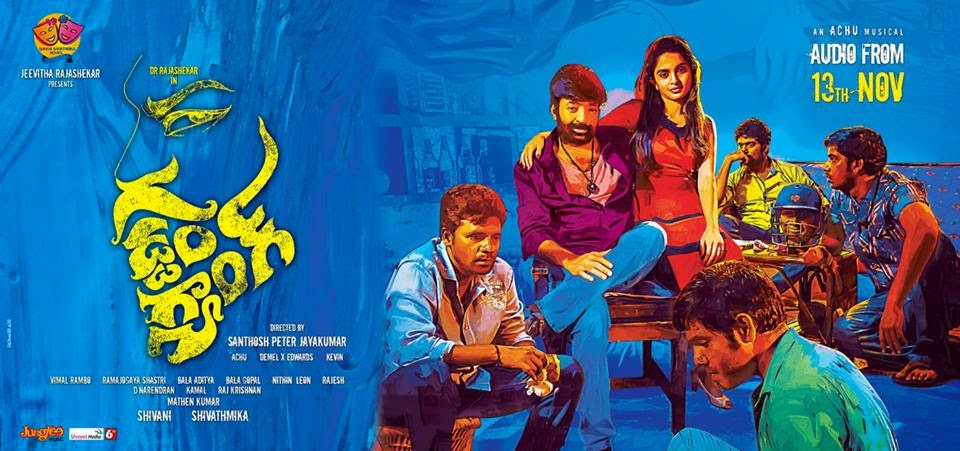 Gaddam Gang Movie Review and Rating:
'Gaddam Gang is the remake of the super hit Tamil film Vijay Sethupathi's  'Soodhu Kavvum', completed the formalities of censor and it's ready for release on February 6th.Recently Rajashekar has no success,he is confident that the film to be surely give hit to him. He looks forward to the release and became a good hit. Achu a well-known composer composed the music and played the important role in the film.In this Rajashekar played the police officer role. Sheena also played the police role. Achu played  the IT officer role.Satyam Rajesh played Driver role in this film.
CBFC published a U/A certificate for the film and the team said that members of censorship praised the film and the performance of Rajasekhar. Sheena played the leading lady in this crime comedy entertainer. Achu Rajamani, Satyam Rajesh, Noyel, Naresh, Sita etc played an important role in the film.
P.Santosh, who worked in the department of director 'Journey' fame  Saravanan, is the director of this film and Jeevitha Rajasekhar produced on Shivani and Shivatmika banner.Achu composed the  music.Heis  very famous with films like potugadu, om, current theega etc.
More details of Gaddam Gang Movie Review and Rating Public Talk Rajashekar
Gaddam Gang Cast and Crew:
Star Casting: Rajasekhar, Sheena Shahabadi, Achu Rajamani, Sita
Director: P. Santhosh
Producer: Jeevitha
Musical Director: Achu
Release Date: February 6, 2015
Certificate: U / A certificate
Gaddam Gang Movie Review:
Rajsekhar was selected a very good story after many years unable to use chance in a perfect way. Rajsekhar character was not appropriate to him. Director Santhosh big mistake was to copy and paste the scenes from the Tamil he didn't even change a single scene.
If the screenplay was changed according to our nativity it could have get at least a better response. Movie had another advantage in Cinematography but it became useless with weak editing and Music. Finally, movie was disaster and it was time waste to watch.
Positive points:
Story
Cinematography
Negative points:
Direction
Slow Narration
Editing
No changes in film as it is copy
Gaddam Gang Movie Rating
2.5/5
Gaddam Gang Movie  Public Talk
Though after many days Rajsekhar prestigious project Gaddam Gang had just created a hype in viewers but who saw the got disappointed very much.
Watch Gaddam Gang Trailer: