Facebook introduced a payment system
Payment systems are becoming increasingly popular and several companies are now investing in them. We know that Apple shortly launch a service to compete with
PayPal
, it also says that Twitter is preparing for your own site and also 
Facebook
 has a similar project in hand. In the famous application 
Messenger
 social network, mainly used to chat with our contacts, 
is hiding a payoff function
 that is still not 100% on, but obviously has been discovered by some curious, as can be seen in the image below.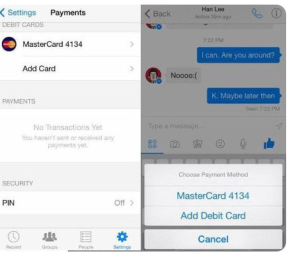 According to reports that have emerged so far, they really are few, Facebook is planning to introduce a payment system in implementing Messenger. As mentioned above, function is available in the latest version, but obviously still does not work as expected and it is quite hidden as to be easily found.
What will this service? So basically it will allow users to send money to each other, which is as simple as sending a photo. Two details that should be noted about this: so far the system only accept debit cards and they do not charge a fee, although the latter may change once the function is officially announced.
We do not know when you plan to Facebook implement this new system, but it could be an explanation to force users to use Messenger if you want a full experience of the social network from your mobile. You may remember that the first rumors about this kind of project by Facebook started running in 2013, so if we're lucky maybe the release is not so far.