Erra bus
movie Directed and Produced by Legendary director Dasari Narayana Rao. Erra bus movie starring Manchu Vishnu and Catherine Tresa play as leading roles. The movie officially releasing on Children's day November 14
th
2014.
Director: Dasari Narayana Rao
Producer: Dasari Narayana Rao
Writer: N. Ragavan
Music: Chakri
Cinematography: Anji
Distributor: 24 Frames Factory
Cast: Dasari Narayana Rao, Manchu Vishnu, Catherine Tresa, Brahmanandam and others.
Scroll Down for Movie Review and Rating: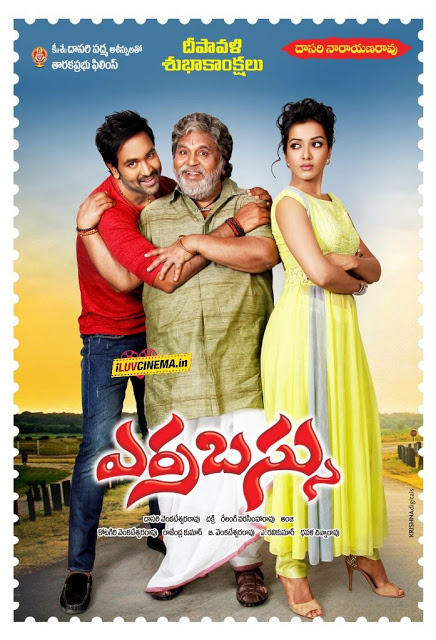 Erra bus movie has a expectations because after so many years Dasari was directing and producing as well as with acting for this film. Recently Dasari was down by his personnel problems and with his family issues. After 2011, Dasari was not took up another project. 70 year old Legend made a re-entry with Pandavulu Pandavulu Tummeda and now he is ready to show his strength with Erra bus to shake the industry.
Manchu Vishnu leading a male actor in Erra bus. He seems confident for the former year hits Doosukeltha, Denikaina Ready. After recent flops with Rowdy, Pandavulu Pandavulu Tummeda, Anukshanam. Vishnu needs a success to survive in industry. Catherine Tresa was in same condition equal situation of Vishnu. She made an entry with Chammak Challo in 2013. 24 year old Catherine is got famous with Iddarammayilatho but she was unable to keep the craze.
Trailer looks very natural as like Dasari films and Finally the Erra bus movie has got prominent for all the team.
Erra Bus Movie Rating: 2.5/5
 Erra bus Movie Review :
Positives
Songs are superb
Dasari Narayana Rao acting and Direction is good
Negatives
Emotions between the characters
Transistion between the scenes
Background Score
Runtime
Screenplay
Forced Brahmanandam comedy.
Erra bus Trailer: